After 10 years of continuous research and innovation, Allergan Aesthetics®, the creator of CoolSculpting®, has launched a new and improved device.
The Refinery Skin Clinic now proudly offers CoolSculpting® ELITE, the fastest way to reshape your body and permanently destroy fat cells without surgery or downtime! Let's explore the enhanced benefits and technological improvements that come along with this second generation of CoolSculpting®.
What is CoolSculpting® ELITE?
CoolSculpting® ELITE is the new and improved version of CoolSculpting® Legacy. It delivers all the same benefits of traditional CoolSculpting® like:
Utilizes the process of cryolipolysis to freeze and destroy fat cells
Non-surgical and non-invasive
Requires little to no downtime
As with the older version, CoolSculpting® Legacy, CoolSculpting® ELITE is cleared by the FDA to reduce stubborn, unwanted body fat in nine areas of the body:
Abdomen
Love handles, or flanks
Back fat
Bra fat on the back and in front of the underarms
Upper arms
Inner, outer, and front of the thighs above the knees
Underneath the buttocks, known as 'banana rolls'
Submental area under the chin, known as a 'double chin'
Submandibular area under the jawline
Although both CoolSculpting® Legacy and ELITE may require multiple treatments to achieve the best results, CoolSculpting® ELITE is proven to be more effective with faster treatments times. In fact, with CoolSculpting® ELITE, two areas of the body may be treated at once!
Why is the new CoolSculpting® ELITE more effective than the older CoolSculpting® Legacy?
Improved Applicator Design
The new applicators for CoolSculpting® ELITE come in seven different shapes and sizes. They are no longer U-shaped but have an improved C-shaped that can hug the body's contours more effectively. This shape allows more tissue to be drawn into the applicator so that more fat is treated with each cycle. The C-shape and diversity of handpieces also make the treatment process more comfortable.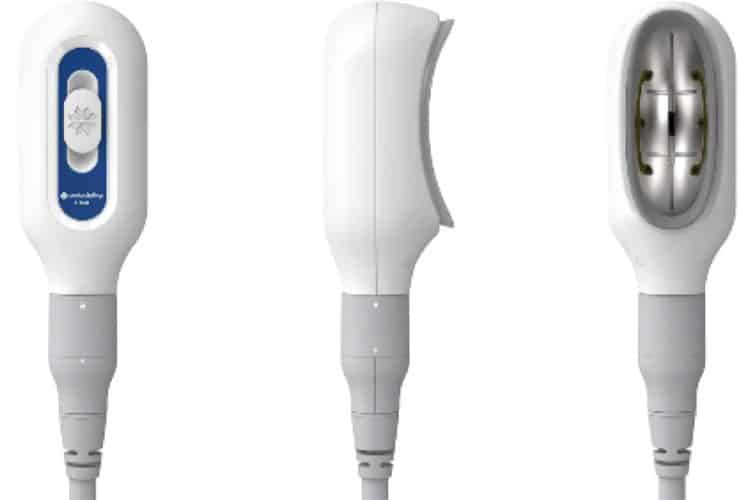 Fewer Treatments with Faster Results
The new applicators used with CoolSculpting® ELITE are able to make more surface area contact with the body. In fact, the applicators cover up to 18% more skin surface than the older version of CoolSculpting®. This means you'll treat a larger area in less time than ever before. To speed things up even further, CoolSculpting® ELITE has two applicators to simultaneously treat two areas of the body at once, sometimes called 'DualSculpting.'
Treatments are More Comfortable
Although you may still feel a slight pulling and pinching at the beginning of your treatment, CoolSculpting® ELITE freezes and numbs the skin faster than the older version. This feature reduces any discomfort quickly and allows you to relax during your appointment. Although CoolSculpting® is not a weight-loss method, it can significantly reduce fat and reshape your body without surgery. To achieve the best results, schedule a complimentary consultation with a Refinery Skin Clinic Advanced Practice Esthetician. Each is a Certified CoolSculpting® provider who can map out a customized plan tailored to your body and your goals!