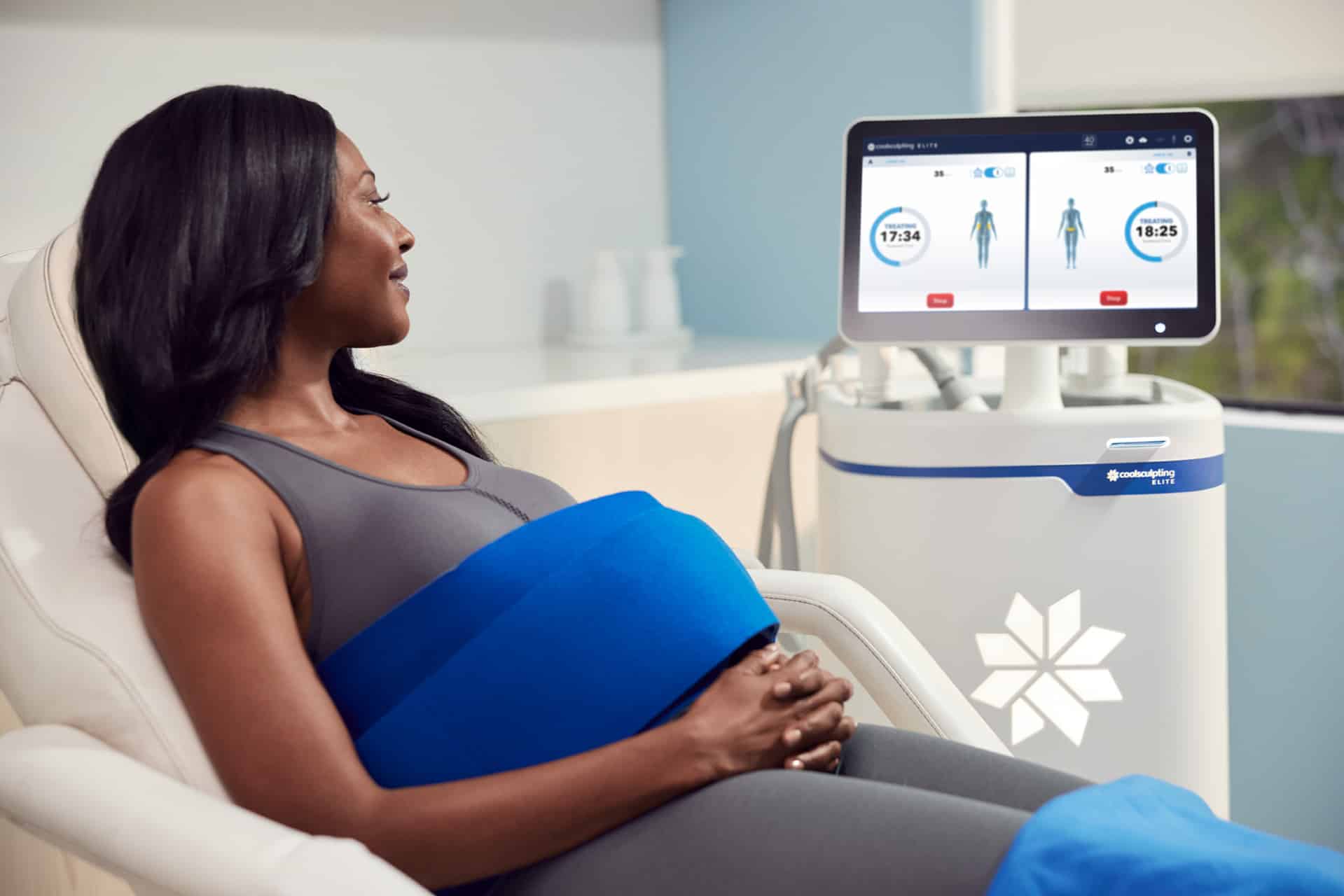 WHY COOLSCULPTING®?
CoolSculpting® reduces stubborn body fat by up to 25% in 9 FDA-cleared areas of your body with each treatment!
Refinery Skin Clinic is proud to offer the most advanced CoolSculpting® technology, CoolSculpting® ELITE! This new form of CoolSculpting® is faster, more comfortable, and more effective than the older version. It treats up to 18% more fat with each session to get you better results in less time.
Many of us have stubborn areas of fat on our body that don't seem to budge, no matter how much we diet or exercise. CoolSculpting® ELITE uses a process called "cryolipolysis" or "fat-freezing" to permanently destroy unwanted fat cells in these problem areas. It is a safe and effective body contouring treatment for individuals who are at or near their ideal body weight and have healthy eating habits and an active lifestyle but still have stubborn areas of excess fat.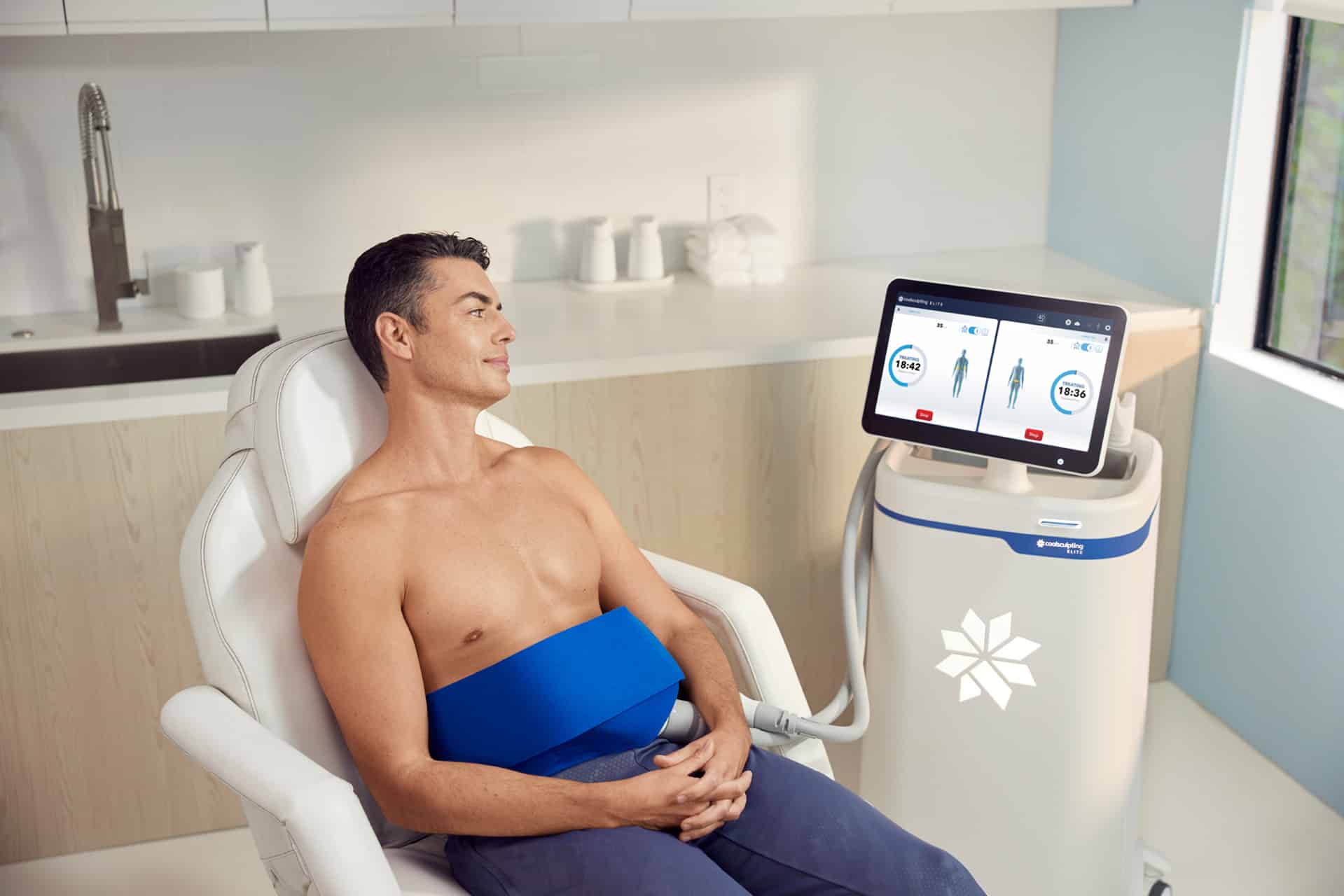 COOLSCULPTING®
CoolSculpting® ELITE is entirely non-surgical, requires no downtime, and is clinically proven to permanently destroy up to 25% of treated fat cells in a single session. It is FDA-cleared for nine areas of the body, including:
Abdomen, Love handles ('flanks')
Back fat
Bra fat on the back and in front of the underarms
Upper arms
Inner, outer, and front of the thighs above the knees
Underneath the buttocks ('banana rolls')
Submental area under the chin ('double chin')
Submandibular (area under the jawline)
Unlike the older version of CoolSculpting®, ELITE has two applicators. This feature allows our clients to get twice the results in half the time by "dual" sculpting in a single appointment!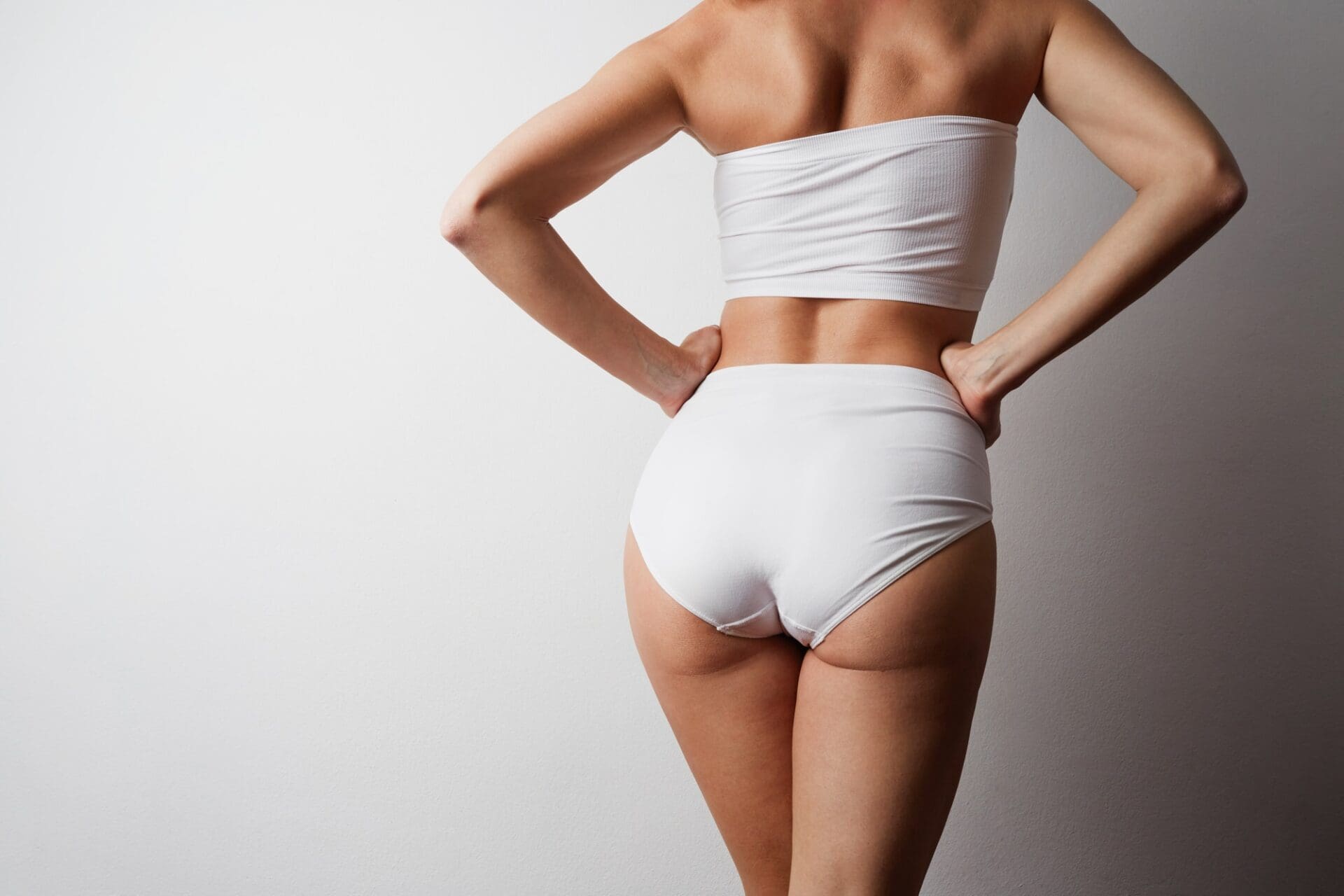 THE RESULTS
The fat cells destroyed during your CoolSculpting® treatment are naturally eliminated through your body's lymphatic system. This process happens gradually, so it can take up to three months to fully realize your final results. Most clients start to see results in the treated area around 4-5 weeks, with continued improvements in the following months.
Refinery Skin Clinic CoolSculpting® providers strongly recommend using two products with CoolSculpting® to accelerate, enhance, and maintain your results. If you are having CoolSculpting® performed under your chin, SkinMedica's Neck Correct Cream can help take your results further by firming and tightening the skin of the jawline, neck, and décolleté. SkinMedica's Firm & Tone Body Lotion is a must for anyone receiving CoolSculpting® on the arms, abdomen, or thighs. It not only smooths and tightens the skin in these areas over time but also helps improve the tone and resiliency of the skin.
Because CoolSculpting® destroys up to 25% of treated fat with each session, you may need more than one treatment to reach your desired outcome. Treatments are ideally scheduled one month apart. In the weeks following your CoolSculpting® treatment, you'll feel your clothes begin to fit better, you'll look better, and you'll FEEL better! For many, CoolSculpting® reshapes more than just their body – it reshapes their confidence!
In some cases, especially if you are concerned about cellulite or skin that is slightly sagging under your chin, your provider may recommend continuing with a Sofwave™ treatment after your CoolSculpting® treatment plan is completed. Sofwave™ is a non-surgical tissue-tightening device that may enhance your results even further!
Ready to Refine Your Image?
THE PRICING
On average, a minimum of at least two treatments (cycles) are recommended per treatment area. More cycles may be needed for best results. This will depend on the initial amount of fat present at the treatment site and your desired outcome.
CoolSculpting® Elite (1-7 treatments)
Pricing: $650/treatment
CoolSculpting® Elite (8+ treatments)
Pricing: $450/treatment
WAYS TO SAVE
It's easy to save on CoolSculpting® ELITE by joining the Allē Rewards program!
Earn points with each CoolSculpting® ELITE treatment and any product you purchase from the Allergan Aesthetics portfolio, including JUVÉDERM®, BOTOX® Cosmetic, DiamondGlow™, and SkinMedica® with the Allē Rewards program. The points you earn can be applied as cash discounts towards future treatments from the Allergan Aesthetics family of products.
Many of our clients prefer the option of low monthly payments to the initial up-front cost of CoolSculpting® ELITE, especially if a full body treatment plan is recommended. We have partnered with two trusted and reputable financing providers to make this possible. Check them out below!