Hydrate your skin from the inside out.
Do you covet soft, dewy skin that radiates health and youthfulness? Are you beginning to notice deeper lines and wrinkles that are making you look older than you feel? Oddly enough, the same ingredient may provide solutions for both of these things. Hyaluronic acid is a beauty industry darling and for a good reason! Its versatility as a topical treatment to hydrate skin and as an injectable to smooth lines has made it one of the most sought-after ingredients in today's medical aesthetics market.
What Is Hyaluronic Acid Exactly?
Hyaluronic acid naturally occurs in our skin. It has an incredible capacity to attract and hold up to 1,000 times its weight in water. When used in topical skincare products, hyaluronic acid acts as a humectant, trapping water against our skin's surface. When used as an injectible, it binds water from surrounding tissues to plump our skin which smooths wrinkles and restores volume.
Benefits of Hyaluronic Acid in Topical Skincare
Imagine the skin cells of your youth replicating deep in your skin like plump, healthy grapes that hold their moisture throughout their journey to your skin's surface. When they reach the surface, your skin holds that hydration and remains soft, supple, and glowing. As we age, those grapes lose that water on their journey and reach your skin's surface looking more like raisins. However, applying topical hyaluronic acid serums can replace that lost water, reinforce your skin's barrier, and make your skin more resilient and youthful looking.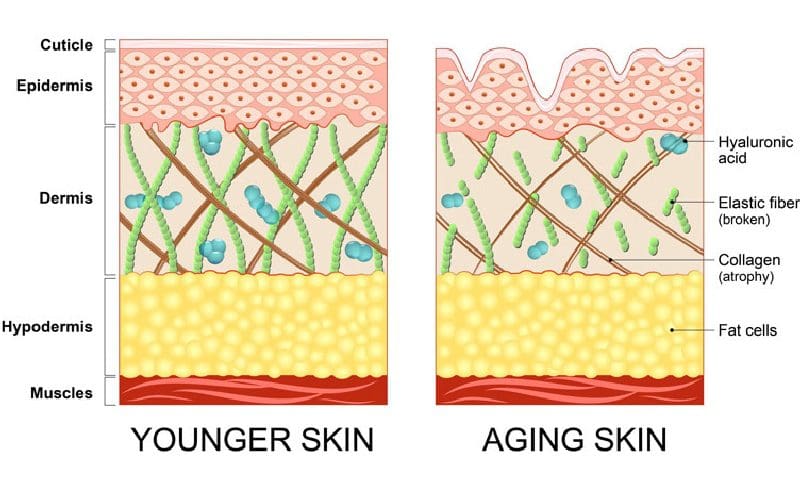 Although using hyaluronic acid for anti-aging concerns is effective, the benefits of this acid extend far beyond just making skin appear more youthful. For one, hyaluronic acid is exceedingly gentle which makes it an excellent moisturizing option for sensitive skin. Because hyaluronic acid is oil-free, it provides hydration for balancing oily skin that may be flaky and dehydrated. Whether used alone or under your favorite cream-based moisturizer or sunscreen, hyaluronic acid can benefit all skin types and concerns.
*Professional treatments like DermalInfusion can be customized with super hydrating hyaluronic acid serums like Ultra Hydrate to give your skin a moisture boost and powerhouse glow!
How Does Hyaluronic Acid Work Differently in Injectables?
Our skin loses collagen, elastin, hyaluronic acid, fat, and even bone as we age. The degradation of these vital skin structures results in volume loss, sagging skin, wrinkles, lines, and loss of definition in our features.
Hyaluronic acid-based dermal fillers, like Juvéderm™, are smooth injectable gels that are designed to restore that lost volume and provide lift. When injected, hyaluronic acid fillers attract and bind water from surrounding tissue to themselves causing a beautiful plumping effect which smooths and lifts our skin. Some hyaluronic acid fillers manipulate the cross-linking and structure of the molecules of hyaluronic acid to make them behave differently. For example, Voluma™ has increased cross-linking which strengthens the product, and a larger molecular structure, making it highly effective in areas that require a lift, like your cheek area. Volbella™ has a smaller molecular structure and softer gel, making it a popular option for delicate areas like the under eyes and lips.
Depending upon the hyaluronic acid dermal filler your injection specialist recommends and the area you are treated, expect your results to last anywhere from six months to two years. An added benefit is that when you are treated with hyaluronic acid fillers, your skin may trigger your body to produce more collagen and elastin on its own.
Hydrate your way to dewy, smooth skin from the inside out with hyaluronic acid! Schedule a complimentary consultation to discuss how your skin may benefit from the topical or injectable use of hyaluronic acid.