Let's talk fillers! To date, Juvéderm® is the #1 chosen collection of dermal fillers in the world!
It offers five different products specifically designed to meet your specific goals when it comes to smoothing wrinkles, restoring lost volume and lift, and enhancing your best features. Whether you want to enhance your lips, rejuvenate your midface, or add gorgeous contour to your chin and jawline – the Juvéderm® Collection delivers!
How does the Juvéderm® Collection work?
As we age, our skin loses volume due to the breakdown of collagen and elastin, integral components that give our skin structure, fullness, and elasticity. In a nutshell, Juvéderm® temporarily restores this volume. The main ingredient in the Juvéderm® Collection of fillers is Hyaluronic acid (HA), a substance naturally found in our bodies that adds volume to our skin. Getting treated with Juvéderm® helps restore lost volume to different areas of your face without surgery while temporarily restoring the volume lost beneath the skin's surface.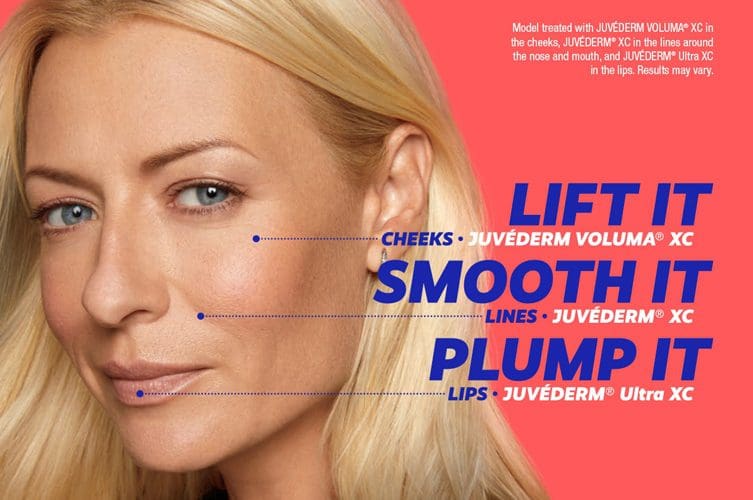 What fillers make up the Juvéderm® Collection?
How do I know which filler in the Juvéderm Collection is right for me?
That's what we're here for! Schedule a complimentary consultation with a Refinery Skin Clinic injection specialist to discuss your goals for your appearance, and we'll map out the perfect strategy to help you reach them.
Is the Juvéderm® Collection of fillers expensive?
Each filler within the collection has a different cost based on the molecular structure of the product and the amount of gel within each syringe. You can extend the longevity of your results by also treating with Botox® Cosmetic and addressing your concerns with the ideal number of syringes needed for full correction, like in our Treat-to-Complete filler packages.
Because the Juvéderm® Collection is part of the Allergan Aesthetics portfolio of products, you can earn Allē Rewards points with each purchase that can be cashed in for future discounts! You can also save $100 on each syringe of Juvéderm by joining The Refinery Skin Clinic's membership program!