By Rebecca Suess RN, BSN, CPSN, CANS
JUVÉDERM® VOLUX® XC is one of the most highly anticipated injectable treatments to hit the aesthetics market. Its ability to enhance the jawline has pushed the envelope on what is possible in the world of non-surgical facial rejuvenation. If you wish your jawline had more definition and the angles of your lower face were more contoured, VOLUX® may be exactly the filler you're looking for!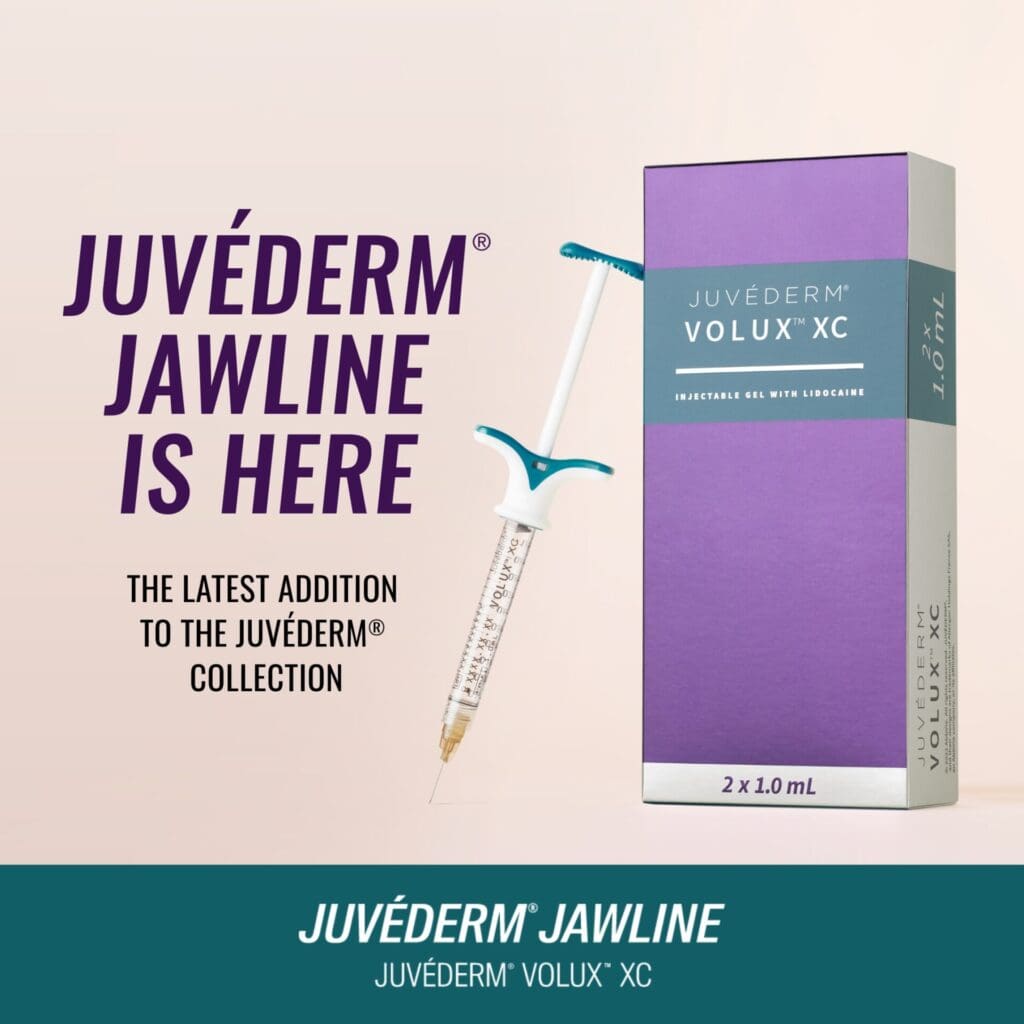 What is JUVÉDERM® VOLUX® XC?
JUVÉDERM® VOLUX®, by Allegan Aesthetics®, is the first FDA-approved hyaluronic acid filler uniquely designed to create a stronger jawline and enhance facial balance. In the hands of an experienced injector, VOLUX® can reduce the appearance of jowls in the lower face and accentuate the angles and sharpness of the jawline.
How is JUVÉDERM® VOLUX® XC different from other dermal fillers?
The key difference between JUVÉDERM® VOLUX® and other dermal fillers, like JUVÉDERM® VOLUMA® XC, is that it has more substance and structure, giving it a greater capacity to lift the overlying skin. It is also injected deeper than most fillers. These qualities make VOLUX® perfect for use in the lower face, which is prone to sagging and loss of definition as we age.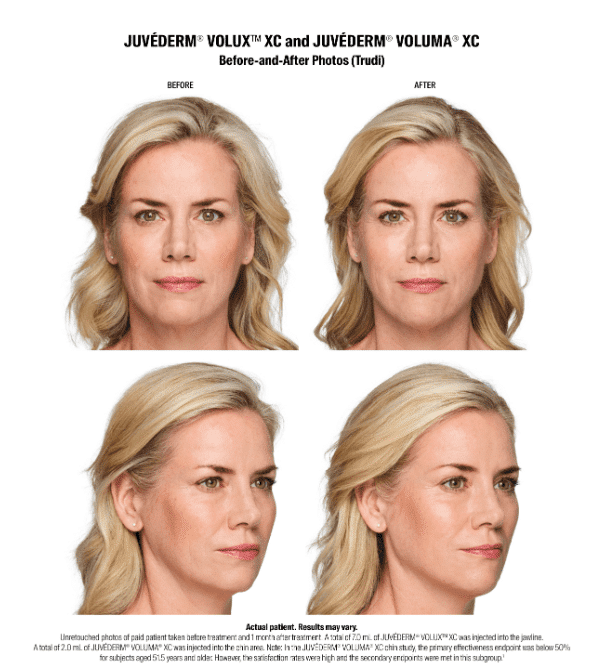 What does JUVÉDERM® VOLUX® XC do?
VOLUX® is a hyaluronic acid-based filler. This means it attracts water from surrounding tissues to plump the skin. VOLUX® is unique in that its molecular structure is formulated to be thicker and injected at a deeper level in the skin than traditional fillers. These differences make it superior for sculpting the jawline and simultaneously creating lift and definition. Those looking to improve the appearance of a weak chin or softened jawline will note a significantly improved profile with JUVÉDERM® VOLUX®, especially when used in tandem with JUVÉDERM® VOLUMA® in the chin.
How does JUVÉDERM® VOLUX® XC work?
JUVÉDERM® VOLUX® is injected much deeper into the skin than other fillers. Instead of sitting between the skin and muscle, VOLUX® is injected closer to the actual jaw bone. As volume is laid along the natural jawline, its contour becomes more pronounced, angles become more defined, and the overall jawline appears more sculpted.
Who is a good candidate for JUVÉDERM® VOLUX® XC?
If you are concerned about a weak chin, unbalanced profile, or lack of definition to your jawline, VOLUX® may be the ideal treatment for you. Not only can it improve the appearance of jowls, strengthen your profile, and sharpen your jawline, VOLUX® can also enhance the overall balance of your facial features. It is a fantastic treatment for men wishing to strengthen and increase the masculinity of their jawline, as well as women desiring to sculpt their jawline and add beautiful definition.
Schedule a complimentary consultation with a Refinery Skin Clinic registered nurse injector by calling (952) 479-0603, texting (952) 295-4681, or CLICKING HERE!