Celebrate BOTOX® Cosmetic Day's 5-Year Anniversary the entire month of November with Refinery Skin Clinic! The holiday is back like never before this year with THREE amazing offers for Allē Rewards members. Here's your official guide to saving and possibly winning BIG with BOTOX® Cosmetic Day 2023.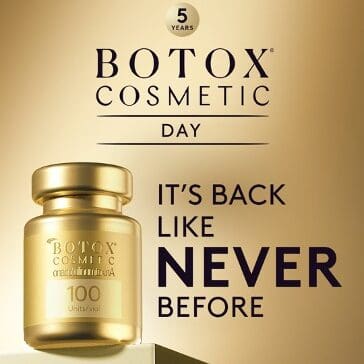 #1 – Make sure you are a registered Allē Rewards member You can't enjoy any of the incredible offers this year's BOTOX® Cosmetic Day offers unless you are a registered Allē Rewards member. Allē is the official loyalty program of Allergan Aesthetics, the manufacturer of BOTOX® Cosmetic, JUVÉDERM®,CoolSculpting®,SkinMedica®, and more. The program allows you to earn points with every purchase you make from the Allergan Aesthetics portfolio of products that can be redeemed for cash discounts on future services. Allē is entirely free to join and can save you hundreds throughout the year! JOIN NOW!
#2 – Current Allē Reward members – make sure you can access your account
Already an Allē Rewards member? Great! Now is the time to visit www.alle.com to ensure your password is current and you can easily access your account. Just a little planning ahead will guarantee that your future online gift card purchase will run smoothly!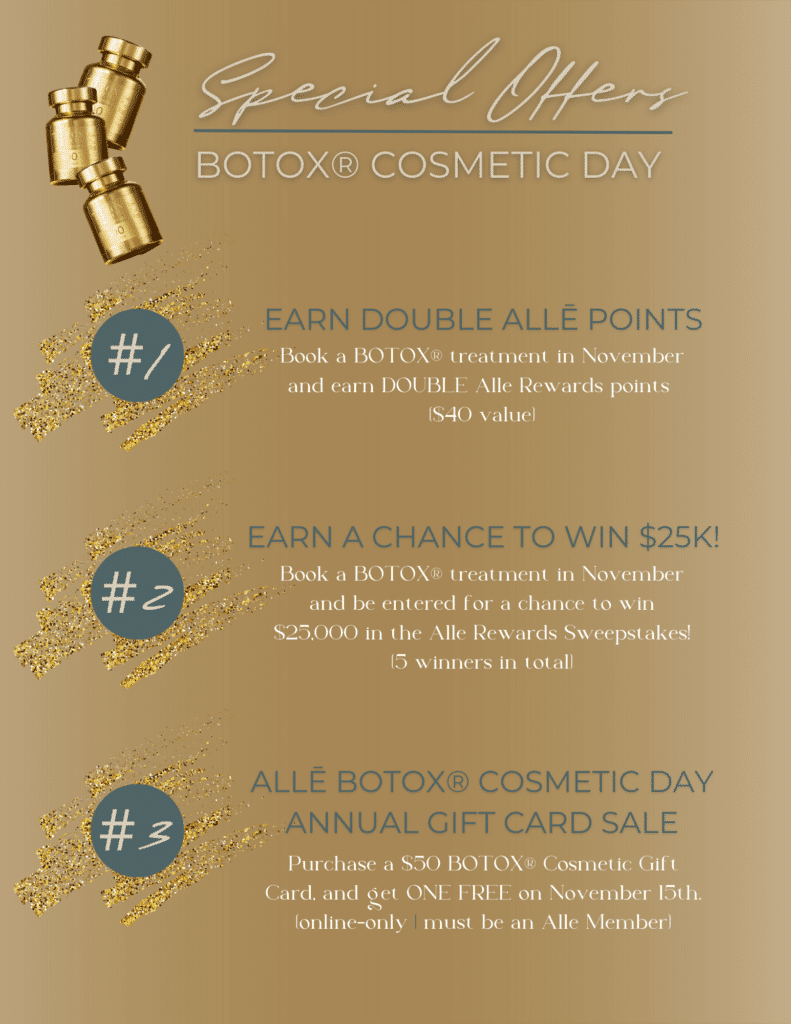 #3 – Earn DOUBLE Allē Rewards points on BOTOX® Cosmetic November 1st – 30th
Get treated with BOTOX® Cosmetic anytime in November at Refinery Skin Clinic and earn DOUBLE Allē points on your purchase. That translates to $40 OFF your next Allergan Aesthetics service or product purchase like SkinMedica's TNS® Advanced+ Serum, a DiamondGlow® treatment, or the new SKIVIVE™! SCHEDULE NOW!
#4 – Get entered for the chance to win $25,000 in the BOTOX® Cosmetic Day Sweepstakes!
When you get treated with BOTOX® this November, you'll not only earn DOUBLE Allē Rewards points but you'll also be entered to win $25,000! Five lucky Allē Rewards members will win big this year. Will you be one of them?
#5 – Buy one $50 gift card, get one FREE on November 15th – BOTOX® Cosmetic Day
Mark your calendar for Wednesday, November 15th! Set a notification on your phone for 11 AM that day. That's the date and time that BOTOX® Cosmetic Day's annual online gift card sale goes live! On this day, Allē Rewards members can visit www.alle.com/botoxcosmeticday and purchase a $100 gift card for only $50 while supplies last! These gift cards sell out FAST, so jump online as early as possible to score yours! 
#6 – Use your BOTOX® Cosmetic Day gift card at your next appointment with Refinery Skin Clinic!
Once you grab your gift card on November 15th, it's time to start thinking ahead and booking your next appointment at Refinery Skin Clinic. Our holiday schedule fills up fast, so if you want to look luminous for an upcoming party with DiamondGlow® or get a jumpstart on your 2024 body contouring resolutions with CoolSculpting®, SCHEDULE NOW!
CLICK HERE to learn more about BOTOX® Cosmetic Day 2023.
Call (952) 479-0603, text (952) 295-4681, or CLICK HERE to schedule your November BOTOX® appointment!