A new year brings a fresh start full of potential and opportunities. If your resolutions for 2022 include enhancing the health of your skin and feeling more confident about your appearance, The Refinery Skin Clinic would love to partner with you!
We offer some of the most effective solutions to help you meet your goals and aspirations at ANY time of the year. Here are our solutions to three of the most popular New Year's Resolutions.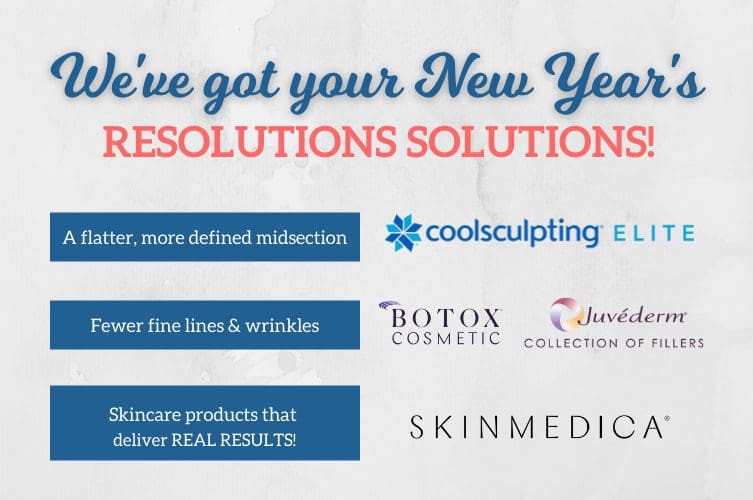 Resolution – A flatter stomach and a more defined midsection.
Solution – CoolSculpting®
Are you struggling with stubborn fat around your middle that just won't budge? Whether your problem area is your abdominals or love handles or BOTH – CoolSculpting® can help restore a flatter, more contoured waistline. This clinically proven, fat-freezing technology is entirely non-surgical and requires no needles or downtime. CoolSculpting® safely uses the innovation of "cryolipolysis" or "fat-freezing" to permanently destroy up to 25% of treated fat cells in a single treatment. When fat cells freeze, they die and are naturally eliminated through your body's lymphatic system. This process happens gradually, so it can take up to three months to fully realize your results. Most people start to see a slimming in the treated area around 4-5 weeks, with continued improvements in the following months. Because CoolSculpting® destroys up to 25% of treated fat with each session, you may need more than one treatment to reach your desired outcome. Treatments are scheduled 4-6 weeks apart.
Did you know? The Refinery Skin Clinic now offers CoolSculpting® ELITE, the most advanced form of CoolSculpting® that allows you to treat two areas at once for twice the results in half the time!
Resolution – Smoother skin with fewer fine lines and wrinkles.
Solution – Botox® Cosmetic and The Juvéderm Collection of Dermal Fillers
If fine lines and wrinkles are making you look older than you feel, Botox® and fillers can help turn back the clock. Botox® is comprised of tiny amounts of a highly purified protein refined from the bacterium Clostridium Botulinum. When injected into the skin, it relaxes the underlying muscle activity that causes a wrinkle. Botox® can soften horizontal lines across your forehead, between your eyebrows, around your eyes, and several other areas of the face.
Dermal fillers work differently than Botox® by instantly restoring volume to a line or wrinkle. As we age, our collagen and elastin production decreases. We also lose volumizing facial fat and supporting bone. Our face begins to sag and appears heavy. Dermal fillers restore structure and lost volume, creating a more smooth and full appearance. The Refinery Skin Clinic offers several different fillers comprised of hyaluronic acid, a naturally-occurring substance in our body that is attracted to water, thus creating a plumping effect. Unlike other dermal fillers, HAs can be reversed if needed.
Did you know? The Refinery Skin Clinic offers several Botox® and filler packages that address the unique characteristics of aging at every stage in life. They're called our "Treat-to-Complete" packages. Not only do they offer more complete and harmonious results in a single treatment session, but they can also save you hundreds and even include additional free services! Check them out by clicking here.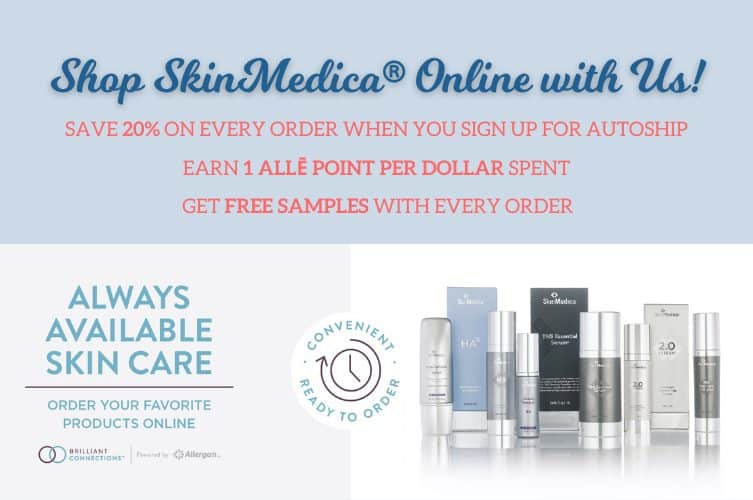 Resolution – Invest in skincare that really works.
Solution – SkinMedica® Skincare
Raise your hand if you have a medicine cabinet full of skincare products that don't work. Don't worry. You're not alone! If you're over wasting money on products that over-promise and under-deliver, it's time to invest in SkinMedica® skincare.
SkinMedica® is physician-created, backed by countless clinical trials, and proven effective. It includes a comprehensive range of innovative antioxidants, retinols, growth factors, brighteners, and other age-defying products for all types and skin concerns. Meet with a Refinery Skin Clinic Advanced Practice Esthetician to get a customized skincare regimen designed to help you reach your 2022 skincare goals and get you glowing for a bright new year!
Did you know? You can shop SkinMedica® skincare products in-store AND online with us! Check out our online SkinMedica® store by clicking here. Products ship straight to your door, and if you sign up for auto-ship, you'll secure a 20% discount on each and every purchase!