When it comes to reducing stubborn body fat without needles, scalpels, or surgery, CoolSculpting® continues to be the most popular non-surgical solution worldwide. CoolSculpting's innovative fat-freezing technology has contoured and reshaped millions of bodies. Although some offices continue to perform their CoolSculpting® treatments with the older model called Legacy, the Refinery Skin Clinic is proud to offer CoolSculpting® ELITE, the most advanced option available today. Read on to learn about the new updates and improvements made to the ELITE model to understand why it is the best CoolSculpting® option available today!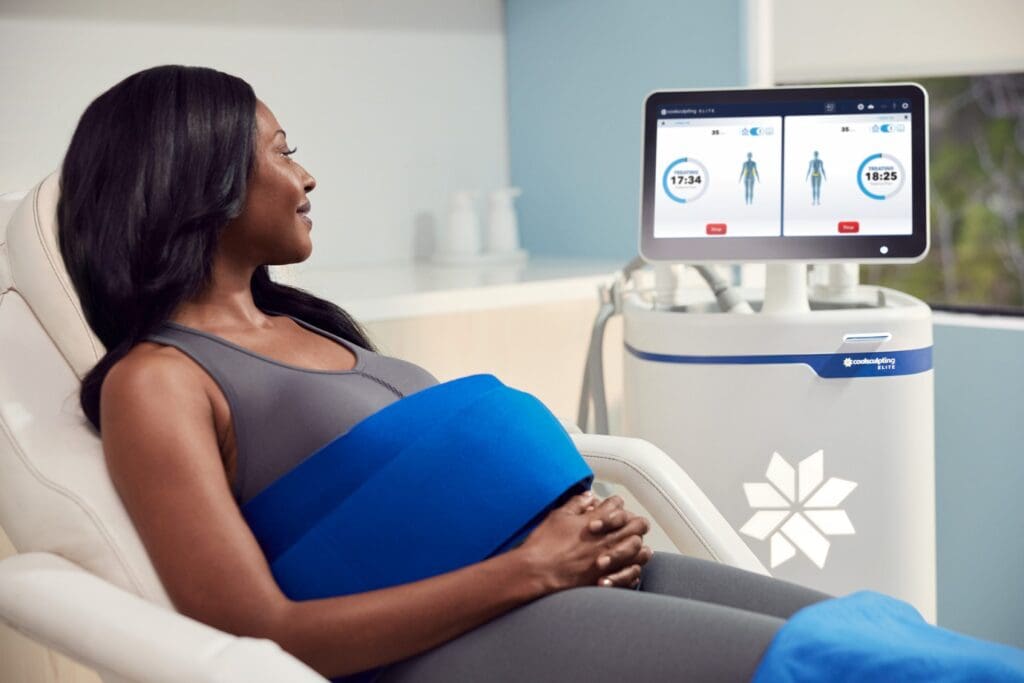 What is CoolSculpting®?
CoolSculpting® is a non-invasive fat reduction and body contouring procedure. It uses a process called cryolipolysis to safely freeze fat cells until they are permanently destroyed. Patients can expect between 20-25% reduction in fat cells in a treated area with each procedure. It is FDA-cleared to reduce stubborn body fat in nine areas of the body.
CoolSculpting® is currently the most popular non-surgical body contouring device in the world and is cleared for use in over 80 countries worldwide. It has been studied more extensively than any other body sculpting technology. The original version, or model of CoolSculpting® was called the Legacy, but there is now a new, updated CoolSculplting® device called ELITE!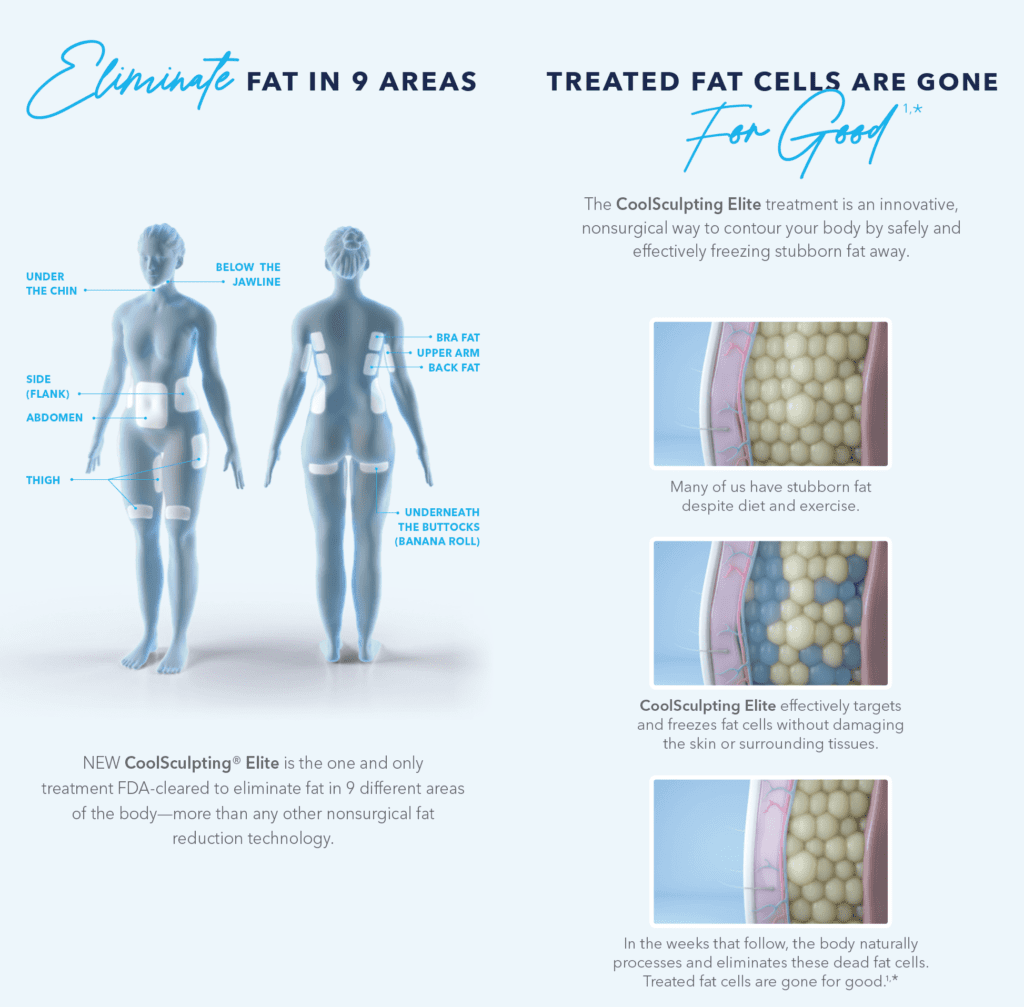 What is CoolSculpting® ELITE?
CoolSculpting® ELITE is the new and improved version of the CoolSculpting® Legacy model. It provides all the same benefits of traditional CoolSculpting® and more!
Similarities between CoolSculpting® with Legacy & Elite models
Both freeze fat using cryolipolysis
Both are non-surgical and non-invasive
Both require no downtime
Both CoolSculpting® Legacy and CoolSculpting® ELITE are cleared by the FDA to remove unwanted body fat in the following nine body areas:
Inner, outer, and front of the thighs
abdomen
flanks or love handles at the waist
bra fat on the torso under the armpits
back fat
underneath the buttocks, known as 'banana rolls'
upper arms
submental area under the chin
submandibular area under the jawline
Here are four reasons why CoolSculpting® ELITE is superior to CoolSculpting® Legacy.
#1 – The Technology & Design Have Had Major Upgrades
Unlike its Legacy predecessor, CoolSculpting® ELITE has a new C-shaped applicator. This improved design effortlessly molds to the body's natural curves, allowing for an 18% larger cooling area than before. That means CoolSculpting® ELITE destroys more fat cells with each treatment than the older Legacy model.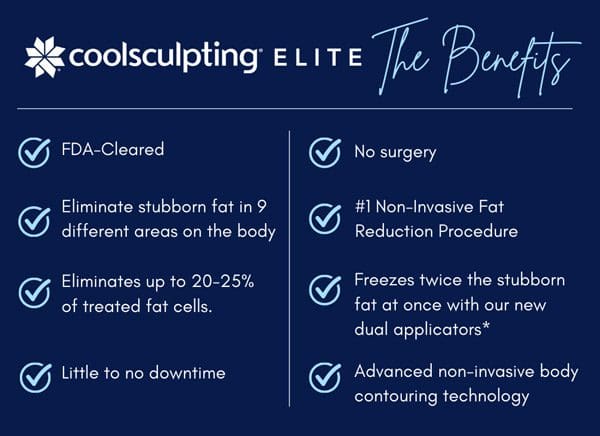 #2 – Two Applicators Allow Faster Treatment Times
CoolSculpting® ELITE has two applicators, whereas the older Legacy version only has one. This feature means you can treat two treatment areas at once, saving significant time and getting you on the road to seeing your results faster! Dual applicators also make ELITE easy to schedule on your lunch break or sneak into a busy schedule.
#3 – The Treatment is More Comfortable
When your CoolSculpting® ELITE treatment begins, you will experience a slight tugging on your skin at the treatment site, followed by pressure as tissue is drawn into the applicator. Some clients experience mild discomfort as their skin begins to cool, but this is quickly replaced by numbness as tissue reaches its therapeutic level of cooling. At 35 minutes, a CoolSculpting® ELITE treatment is also shorter than the Legacy model, allowing you to quickly get back to your busy schedule with only minimal swelling and discomfort.
#4 – Results Kick In Faster
With the Legacy model of CoolSculpting®, most patients must wait three months for their final results to be realized. Because the ELITE version has superior skin contact with its improved applicators, patients may start to see results in as little as three weeks that will continue to improve up to three months!
Ready to make the vision you have for your body a reality? Schedule a complimentary CoolSculpting® consultation with a Refinery CoolSculpting® Certified provider and get a customized plan to help you reach your goals! Call (952) 479-0603 or text (952) 295-4681 to get started!