---
Does the size or shape of your arms make you feel self-conscious in certain clothing styles like tank tops and strapless dresses? Does it seem like no matter how much you diet or exercise, you just can't seem to lose fat in your upper arms or add definition?
If so, CoolSculpting® can help restore a slimmer, more toned appearance to your arms and get you feeling confident about going sleeveless again!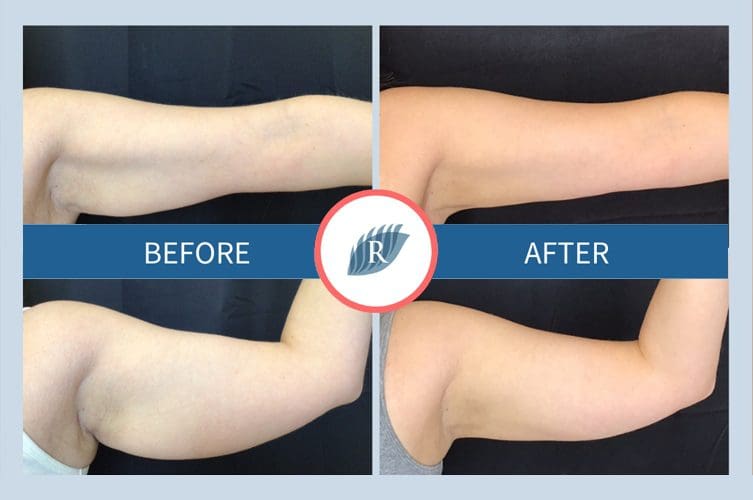 What is CoolSculpting®?
CoolSculpting® is the world's #1 non-surgical, non-invasive fat reduction treatment. It utilizes the science of cryolipolysis, or "fat freezing," to permanently destroy stubborn body fat by up to 25% with each treatment. CoolSculpting® is FDA-cleared to treat nine areas on the body, including under the chin, bra fat, back fat, abdominal fat, flanks, inner thighs, outer thighs, under the buttocks, and the upper arms. Treatments are non-invasive, comfortable, and require no downtime.
How does CoolSculpting® work on the upper arms?
Your CoolSculpting® journey begins with a complimentary consultation with a Refinery Skin Clinic Certified CoolSculpting® Provider.  She will analyze the amount of fat present on your arms and propose a treatment course to get you the best results possible.  Depending on the initial amount of fat present, this may include multiple treatments spaced four to six weeks apart.
During your treatment, a customized applicator is attached to the upper arm. CoolSculpting® works by delivering a safe, therapeutic level of cooling to the skin and fat drawn into the handpiece. Your skin's surface is protected while cooling temperatures freeze and crystalize deeper fat cells, causing them to die. Your body's lymphatic system will gradually and safely eliminate these cells over time. 
After your treatment, your upper arms may feel slightly numb and dense.  These sensations, along with itching and tenderness, may last up to two weeks.  In rare cases, light bruising may occur.  You can immediately return to normal activities after your CoolSculpting® treatment.
With each passing month, your upper arms will appear slimmer and more sculpted. Expect to see your final results three months after your initial treatment and anticipate that multiple treatments may be needed if a significant amount of fat is present.
How long do CoolSculpting® results last?
The fat reduction that occurs with CoolSculpting® is permanent. Because remaining fat cells can grow larger, it is important to stay at a stable weight after your treatment(s) to maintain your results.  Many clients decide to have multiple areas treated with CoolSculpting® at once for a true, full-body transformation!
Want to save on CoolSculpting®? Our members receive a 10% discount on their total treatment cost. Join the Allē rewards program to earn points with each CoolSculpting® treatment and apply them as discounts in the future!