According to the American Society for Aesthetic Plastic Surgery, 4,401,536 people were treated with Botulinum Toxin Type A (Botox® Cosmetic, Dysport®, Xeomin®) in 2020. That is over a 450% increase since 2000!
It's safe to say that the popularity of Botox® has risen dramatically through the years as a means to combat and prevent the signs of aging. Even though it is more commonplace than ever, many people still don't understand precisely what it is, how it works, or why you should only have Botox® Cosmetic injected by an experienced, credible, and fully licensed medical professional. Read on to learn your Botox® basics.
What is Botox® Cosmetic?
Just like we call cotton-tipped applicators Q-Tips®, or facial tissues Kleenex®, the name Botox® Cosmetic is a brand name within the group of injectable wrinkle-relaxers called neurotoxins. It is comprised of a safe, highly purified protein that has been used cosmetically for years and therapeutically for decades. Botox® Cosmetic is the first and only treatment FDA-approved to temporarily make moderate to severe frown lines, crow's feet, and forehead lines look better in adults. The safety and effectiveness profile of Botox® Cosmetic has been proven in more than 16 years of published research and described in 528 articles in peer-reviewed scientific and medical journals. It is the most widely researched and studied treatment of its kind.
How does Botox® work?
Over time, the repeated contractions of muscles we use to make facial expressions can break down the collagen and elastin in our skin and cause a wrinkle. One of the most prominent areas we can see this in is the vertical lines between our eyebrows when we furrow our brows together. Once Botox® has been injected into a muscle, it blocks the nerve receptors on that muscle from receiving the signal from the brain to contract. As a result, the surface of the skin remains smooth, and wrinkles soften over time.
Where is Botox® most commonly used?
Although FDA-approved to treat the lines on the forehead, between the eyebrows, and around our eyes, Botox® Cosmetic is also used "off-label" to improve fine lines and wrinkles on many other places on the face.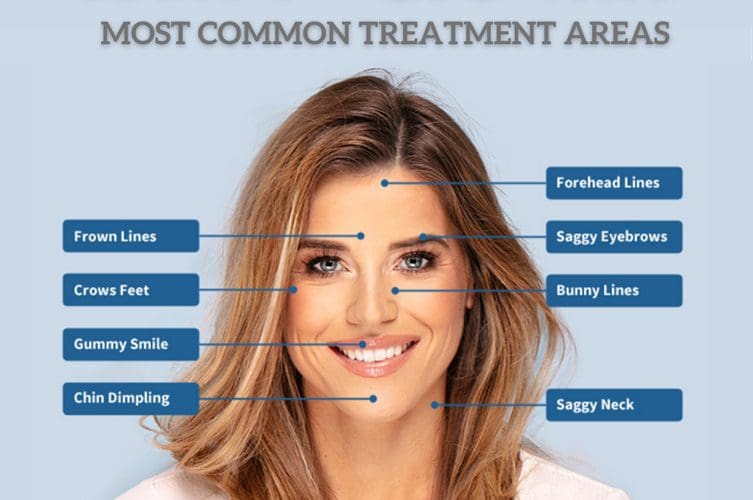 When do I see results with Botox®?
Botox® results are not instantaneous. Once injected, the effects gradually set in over 7-10 days. Some clients may notice inhibited movement as soon as two days post-injection, but it is not uncommon for final results to take up to two weeks to fully set in. Most people enjoy the results of their Botox® for three to four months. Quarterly maintenance is recommended to keep wrinkles continuously relaxed.
Why does Botox® wear off eventually?
Even though Botox® blocks your muscles from receiving the signal from your brain to contract, your muscles will eventually produce new nerve receptors to receive that signal again. Being diligent about scheduling your Botox® every three to four months will not only maintain your results but also may prevent new wrinkles from forming!
What are the possible side effects of Botox®?
The results you get from Botox® Cosmetic, and the safety of your treatment is very provider sensitive. Unfortunately, the rising popularity of this age-defying injectable is mirrored by a rise in unqualified and unlicensed Botox® injectors. Because Botox® Cosmetic is categorized as a medical procedure, it should only be administered by experienced and qualified physicians, physician assistants, nurse practitioners, and/or registered nurses.
When injected by a qualified provider, Botox® has minimal downtime and is very safe. The most common side effects are slight redness and/or swelling at the injection site that usually subsides within 1-2 hours. Light bruising may also occur, especially around the eye, as this area is very vascular, and skin here is thinner than the rest of the face. In rare cases, a drooping or heaviness to the eyelid(s) may occur called ptosis. Ptosis may result from poor injection technique or when a person presses on the treatment site too soon after their injection and causes the Botox® to migrate, but should wear off within three months or less.
How much does Botox® cost?
Botox® Cosmetic is most frequently charged per unit of product. For example, a woman looking to soften the frown lines between her eyebrows can anticipate that 20-24 units of Botox® will be required to treat this area on average. Additional savings can be enjoyed by joining the Allē Rewards, the loyalty program of Allergan Aesthetics. Allē allows you to earn points with each treatment you receive from the Allergan Aesthetics portfolio (SkinMedica® skincare, Botox® Cosmetic, The Juvéderm Family of Fillers, Kybella®, DiamondGlow™, Latisse®, and CoolSculpting®) that can later be used towards cash discounts on future services! Clients can also join our monthly membership program at The Refinery Skin Clinic to receive $1 off each unit of Botox® all year round!
Insider Tip: Make sure you're an Allē Rewards member to enjoy the special offers and online coupons Allergan Aesthetics launches every November to celebrate National Botox® Day!