Winter is here. The season of cozy sweaters, turtlenecks, and scarves. But, what if your fashion choices are less about keeping warm and more about hiding your double chin?
Millions of Americans battle the under the chin bulge regardless of their weight or how healthy their lifestyle. Because a double chin can be genetic, a person may find that no amount of exercise or dieting will slim down this stubborn fat. Luckily, The Refinery Skin Clinic offers two effective treatment solutions from Allergan Aesthetics™ that may help you slim your chin and update your profile!
In 2017, Allergan, the creator of Botox® Cosmetic and the Juvéderm Collection of dermal fillers, conducted a survey to determine how happy people were with their chins' appearance. Of those polled, over 47% reported feeling truly dissatisfied with this area of their faces due to submental fullness, commonly called a double chin. Where once only surgical options such as liposuction were available to patients, Allergan Aesthetics™ now offers both CoolSculpting® and Kybella® to help patients feel more confident about the appearance of their chin and jawline. Let's take a look at how these two treatment therapies work differently.
CoolSculpting® – The world's #1 non-surgical fat reduction treatment!
CoolSculpting® is an FDA-cleared device that uses cryolipolysis, or "fat-freezing" technology, to safely deliver a therapeutic level of cooling to the fat cells under your chin and jawline. As a result, these cells become crystallized throughout your treatment session and eventually die. In the following months, your body's lymphatic system will process this fat and safely eliminate the dead cells. Each session permanently destroys up to 25% of treated fat cells.
Improvements with CoolSculpting® under your chin can be seen in as little as three weeks, but optimal results are seen 2 to 3 months after your last treatment. Depending on the amount of fat in the treatment area, one to three treatments may be necessary. There is little to no downtime associated with CoolSculpting®, and patients can return to their daily life and routine immediately.
No surgery. No needles. No downtime. If that's not good enough, there's more! CoolSculpting® for the chin area was also just FDA-cleared and proven effective for tightening the skin under the chin as well!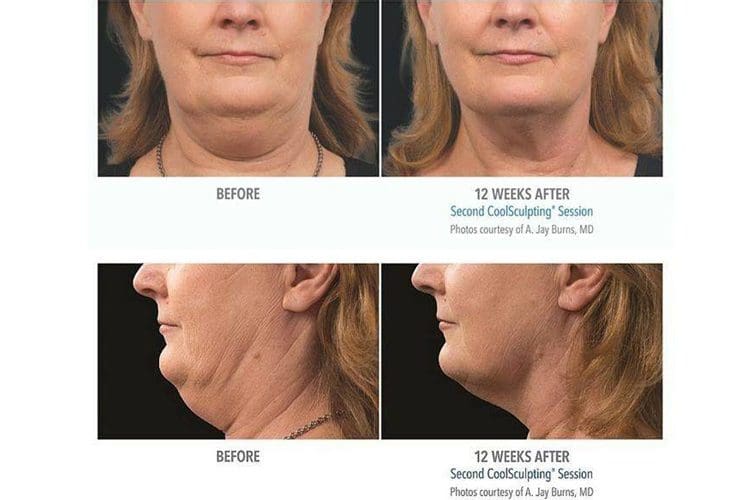 Kybella® (deoxycholic acid) – The first and only FDA-approved injectable treatment to reduce fat under the chin.
Kybella® is the only FDA-approved injectable treatment for adults that permanently destroys fat cells under the chin for a gradually improved profile. Whereas CoolSculpting® uses an applicator that freezes fat cells, Kybella® is injected directly into the fat pad under your chin and jawline. The active ingredient in Kybella®, deoxycholic acid, is naturally occurring in our bodies. It aids in the breakdown and absorption of the fat we consume. When injected under your chin, Kybella® progressively breakdown fat cells. Like CoolSculpting®, these cells are permanently destroyed and take months for your lymphatic system to dispose of fully.
How do I choose between CoolSculpting® & Kybella® to treat my double chin?
Both CoolSculpting® and Kybella® are effective treatment options with similar outcomes and pricing. Some patients may experience more swelling and bruising with Kybella® due to the number of injections. But this method may also give your Injection Specialist more freedom to customize your treatment by placing Kybella® exactly where you need it, as opposed to CoolSculpting®, which uses a standard applicator. That being said, many patients like the fact that CoolSculpting® does not involve any needles. The best way to discern whether Kybella® or CoolSculpting® is right for you is to schedule a consultation with a Refinery Skin Clinic Injection Specialist to discuss both methods and decide which is best for your lifestyle and desired outcome. In some cases, BOTH methods may be recommended. CoolSculpting® to debulk the volume of fat under the chin to begin, followed by Kybella® to contour the jawline and jowls! 
*Be sure to join the Allergan Aesthetics™ loyalty program, Allē to earn points and save on both CoolSculpting® and Kybella® treatments! Register Here! Save even more by signing up for a Refinery membership!