Have you been neglecting your neck? While many of us are now diligent about applying a daily SPF to our faces and using physician-grade skincare, few of us include our neck and chest in the application of these products.
With our necklines almost always being exposed to the elements, the delicate skin in this area becomes vulnerable to the ravages of the sun and free damage from our environment. If you feel that your neck and décolleté area is beginning to show the signs of aging, then it's time to consider incorporating the new Neck Correct Cream by SkinMedica® into your daily skincare regimen!
The skin on our neck is different than the rest of our bodies. It's actually more akin to the thin skin on our eyelids. As a result, wrinkles on our neckline are 5Xs deeper than those on our cheeks. The first signs of aging on our neck and chest area often include slight sagging, discoloration, and a crepey texture, especially under the chin. Neck Correct Cream is a state-of-the-art, luxurious formula of peptides, antioxidants, and active botanical extracts that are designed to target the biological pathways specific to neck aging.
What's in Neck Correct Cream?
Neck Correct Cream's key ingredients are specially curated for the neck and décolleté. Together, they support the extracellular matrix proteins, including collagen and elastin, help reduce the appearance of platysmal bands (neck bands), and protect your skin from free radicals.
Green microalgae extract
Shitake mushroom extract
Rice protein
Lemon balm extract
Peptides
Paracress extract
Knotgrass extract
Dunaliella salina extract
What results can I expect with Neck Correct Cream and when?
During clinical trials, participants noticed significant improvements in the appearance of the following in the first four weeks when applying Neck Correct Cream two times per day:
Fine lines and wrinkles
Crepiness
Roughness
At eight weeks, significant improvements in the appearance of the following were noted after applying Neck Correct Cream two times per day:
Laxity, crepiness & sagging
Skin tone evenness & radiance
Roughness
Deep lines and wrinkles
Best results with Neck Correct Cream were seen after 12 weeks of continued use.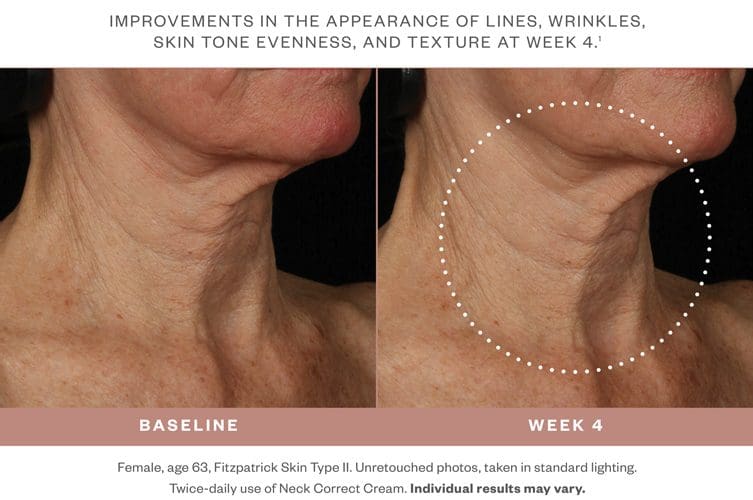 Where and how do I purchase SkinMedica® Neck Correct Cream?
Because SkinMedica® skincare is in the Allergan Aesthetics portfolio of products, you can apply and earn Allē Rewards points with each purchase! Neck Correct Cream is available at The Refinery Skin Clinic or can be bought in our online SkinMedica® store. Remember, if you sign up for auto-ship in our online store, you'll save 20% on Neck Correct and your entire purchase of skincare on EVERY ORDER!
Shop our online SkinMedica® store