Are you battling acne? Then it's time to get glowing!
DiamondGlow™ is a non-invasive, medical-grade skin-resurfacing treatment that simultaneously exfoliates, extracts, and infuses the skin with advanced serums to improve overall skin health, tone, clarity, and texture. Although most commonly associated with delivering baby soft, smooth skin and a powerhouse glow, DiamondGlow™ can also be an incredibly effective treatment for managing most forms of acne!
The DiamondGlow™ Treatment
DiamondGlow™ is 100% customized to your skin type, condition, and concern.
The resurfacing treatment includes a three-step process that removes dry and damaged skin cells, thoroughly cleans your skin's surface, extracts debris from pores, and then delivers active SkinMedica® serums deep into the skin for a smooth, hydrated, and healthy appearance.
DiamondGlow's unique technology is powered by a patented handpiece that incorporates exfoliating diamond-tipped treatment heads, pneumatic suction, and SkinMedica® Pro-Infusion serums. The treatment heads come in various levels of abrasiveness that your Advanced Practice Esthetician will customize to suit your skin condition. By eliminating the time between exfoliation and active serum application, the DiamondGlow™ treatment ensures optimal skin receptivity and retention.
DiamondGlow™ is a non-invasive treatment that is gentle and painless. With minimal downtime, you can return to your daily activities right after treatment. Your skin is mildly pink to red for about 1-2 hours after treatment. DiamondGlow™ is a great service to schedule prior to a social event! 
How Can DiamondGlow™ Treat Acne?
DiamondGlow™ has a specific protocol to treat deeply congested skin and acne. First, a customized handpiece with a brush head is used to remove surface debris and excess oil. Next, extractions are performed to remove blackheads and congestion from pores. Finally, skin is bathed in SkinMedica's Pore Clarifying Pro-Infusion Serum. This highly active serum contains a soothing blend of plant and chamomile oil extracts, decongesting salicylic acid, and bacteria-killing oregano oil to improve all forms of acne.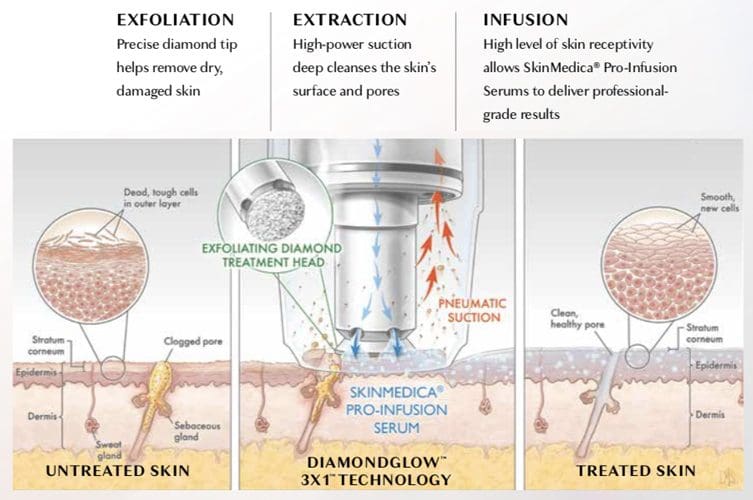 What are the Benefits of DiamondGlow™ for Acne?
Reduces oil production over time
Clears active acne
Reduces future breakouts
Hydrates stressed, dehydrated skin
Soothes irritation, and inflammation
Extracts blackheads and pore congestion
Kills surface bacteria that can lead to acne
Removes dead skin cell build-up that can congest pores and lead to acne
Improves the appearance of acne scarring over time
How Many DiamondGlow™ Treatments Will I Need to See an Improvement in My Acne?
DiamondGlow™ provides both immediate and long-term results for all skin types, including acne-prone skin. Your first treatment will deeply cleanse pores and immediately begin to clear any active breakouts. Regular treatments will regulate oil production, destroy acne-causing bacteria, soothe inflammation, and regulate cell proliferation to prevent clogged pores. Our Advanced Practice Estheticians recommend bi-weekly treatments until the acne has cleared and then scheduling a Pore Clarifying DiamondGlow™ treatment every 4 to 6 weeks to maintain your clear complexion. Enhance your results further by using the acne-prone skincare products recommended to you by your Esthetician!
*Want to save on DiamondGlow™? Consider joining our monthly membership program to save $20 each time you get glowing. Also, join the Allē Rewards Program to earn points with each DiamondGlow™ treatment that can be cashed in for future discounts!