By Michele Lukkason, RN, CANS
If you have been receiving cosmetic injections for several years, you by now realize that there is both skill and artistry involved in facial rejuvenation with injectables. A qualified provider will anticipate both the direct and indirect effects of Botox® Cosmetic and have a keen understanding of where and how to restore volume to the face with fillers to achieve the most natural-looking results. While many patients opt to treat with a syringe of dermal filler here and there throughout the year, the multiple-syringe facial balancing technique is growing in popularity because of the heightened correction and transformative results it can achieve in a single appointment.
What is Facial Balancing with Filler?
Facial balancing with dermal fillers is all about ensuring harmony and proportionality between key facial features. Why? When measurements like chin-to-lip and nose-to-chin fall within ideal ratios, our faces appear more balanced and attractive. Facial balancing can build out the projection of the chin, the shape of the lips, the contours of the jawline, and the volume and lift of the cheeks to create a more attractive face shape that looks fresh, balanced, youthful, and completely natural!
How Does Facial Balancing Work?
Dermal fillers, like those in the JUVÉDERM® Collection, are injectable gels that can be used on several areas of the face, including the cheeks, jawline, lips, and chin, to restore volume and enhance contour and shape. When injected, hyaluronic acid gels (Has) produce a naturally "plumping" effect in tissue by attracting water to themselves. As a result, they can fill out hollow areas where you may have lost volume, restore facial feature symmetry, and also smooth out wrinkles and fine lines.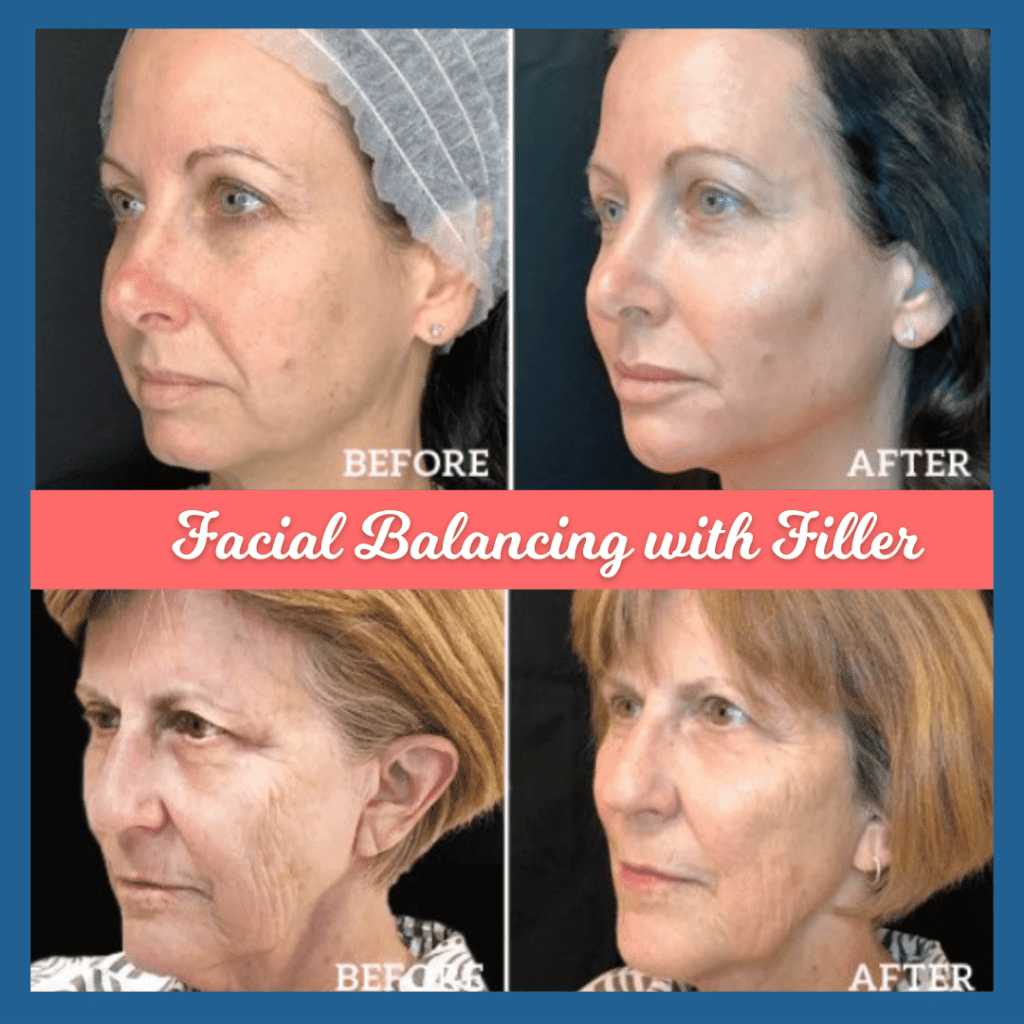 Performing facial balancing with fillers requires a provider with an artistic eye and a skilled hand. First, proper measurements of the face must be taken to see where more balance may be of benefit. For example, a slightly recessed chin can be built out with a product like JUVÉDERM® VOLUMA® XC to enhance a client's profile and create a more youthful-looking lower face. Next, the correct type of dermal fillers must be selected, and they must be administered in just the right amounts and in the ideal locations to produce the most natural-looking, well-balanced, and beautiful results. With facial balancing, your injector assesses your face as a whole picture, not just one area, such as the lips or cheeks.
Will I Get a Better Overall Result with Facial Balancing?
Ideally, facial balancing is performed to full correction in one appointment, requiring multiple syringes of filler. (BOTOX® can also be performed at the same appointment.)This way, all areas of imbalance are addressed at once to achieve the most harmonious, natural-looking results possible. While this may be more costly upfront, once this first balancing session is complete, many clients only need to touch up throughout the year with fewer syringes than before and maintain their quarterly BOTOX® treatments. Most also find that they are far happier with their results because all their concerns were resolved at once!
Curious to see if facial balancing with dermal filler is for you? Schedule a complimentary consultation with a Refinery Skin Clinic Nurse Injector by calling (952) 479-0603, texting (952) 295-4681, or CLICKING HERE.