Do you have stubborn pockets of fat that don't seem to budge, even with diet and exercise? Is there an area of your body that you'd love to see just a little more contoured, flatter, or slimmer? FDA-approved CoolSculpting® may be the solution!
This fat-freezing technology permanently destroys up to 25% of treated fat cells with each treatment. Plus-it does it without surgery or needles and has little to no downtime!
What is CoolSculpting®?
CoolSculpting® is a safe and effective body contouring treatment for individuals who are at or near their ideal body weight, have healthy eating habits and active lifestyle, but still have stubborn areas of fat. It is not a weight-loss treatment but can help you permanently lose up to 25% of treated fat in a single session. CoolSculpting® is currently the #1 non-surgical fat reduction treatment in the World. 
How does it work?
CoolSculpting® safely uses the innovation of "cryolipolysis" or "fat-freezing" to destroy fat cells permanently. Fat cells hate the cold, and exposing them to specific temperatures will damage their cell membranes. When fat cells freeze, they die and are then naturally eliminated through your body's lymphatic system over several weeks.
CoolSculpting® uses customized applicators to safely "freeze" common problem spots of the body. Your skin is drawn up into the applicator and uniformly cooled to a therapeutic temperature. Depending on the treatment area, this can take anywhere from 35 minutes to over an hour. As a result, up to 25% of fat cells in this treated area are destroyed.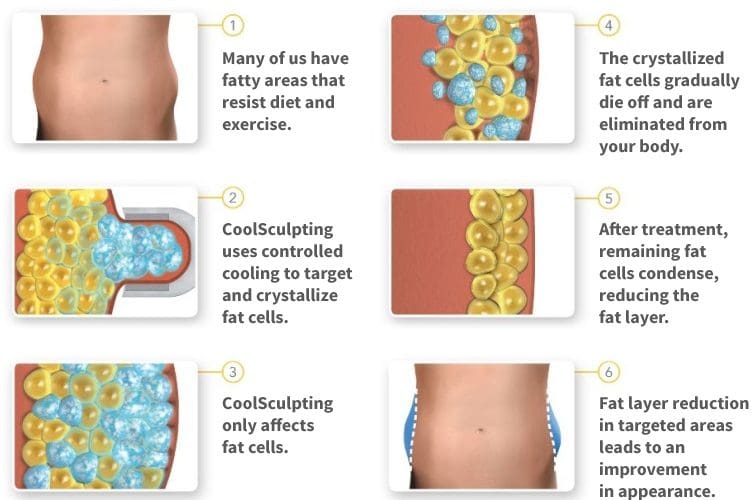 Where can I have it done?
CoolSculpting® is currently FDA-approved to treat nine areas of your body. These include fat under the chin, the upper arms, bra fat, back fat, flanks, the abdomen, thighs, and the area right under your buttocks.
When do I see results?
Because your body needs time to eliminate the fat cells that were destroyed with CoolSculpting® safely, it can take up to three months to fully realize your results. Most people start to see a reduction in the treated area around 4-5 weeks, with continued improvements in the following months.
Because CoolSculpting® destroys up to 25% of treated fat with each session, you may need more than one treatment to reach your desired outcome. Treatments are scheduled 4-6 weeks apart. Your Refinery Skin Clinic CoolSculpting® provider will help you map out a plan during your initial consultation that includes treatment areas and numbers of treatments or "cycles," she recommends to ensure you get the best results!
*Want to save on CoolSculpting®? Our members receive a 10% discount on their total treatment cost. Join the Allē rewards program to earn points with each CoolSculpting® treatment and apply them as discounts in the future!