According to the American Academy of Dermatology Association (AADA), acne is the most common skin condition in the United States, affecting the lives of up to 50 million people every year. Although most of us grow out of our battle with adolescent acne, many carry this struggle into adulthood. The Refinery Skin Clinic has many products and treatment strategies to help manage acne and smooth acne scarring, but one stands out as a staff favorite. The Obagi CLENZIderm MD® System has an incredibly high success rate of clearing and controlling our clients' acne at ALL stages of life!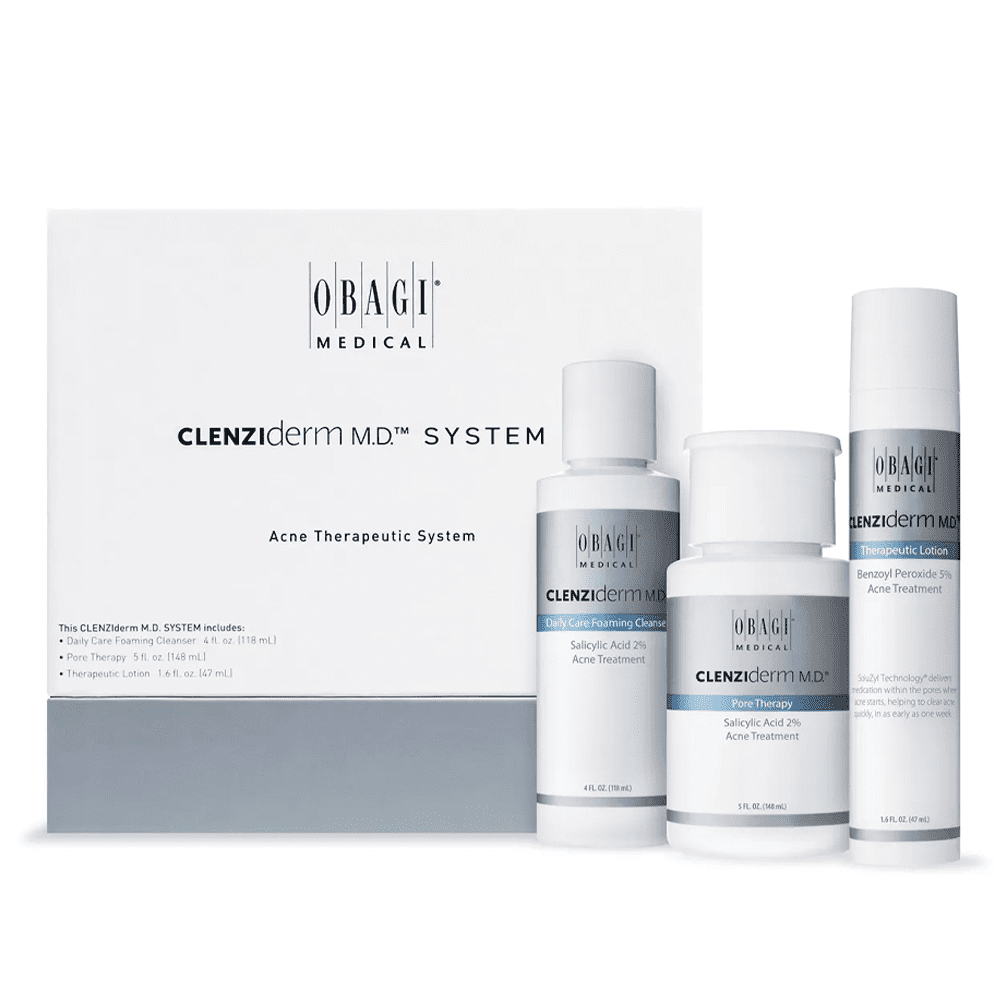 What is the Obagi CLENZIderm MD® Acne Therapeutic System?
The CLENZIderm MD® System is a 3-step regimen formulated for acne-prone skin to help treat active acne and prevent future breakouts. It contains salicylic acid and benzoyl peroxide, two clinically-proven ingredients specifically formulated to target P. acnes, the bacteria that causes acne and resides deep within pores. With daily use, the CLENZIderm MD® System has proven to be highly effective in treating mild to moderate acne, preventing future breakouts, reducing acne scarring, and controlling excess oil production.
What Products are Included in the Obagi CLENZIderm MD® System?
The CLENZIderm MD® System is simple and easy to use! It contains only three high-powered steps that, when used daily, will quickly clear your skin and prevent future breakouts.
#1 – Obagi CLENZIderm MD® Daily Care Foaming Cleanser
The Daily Care Foaming Cleanser is a lightweight cleanser appropriate for normal to oily skin types. It is powerfully exfoliating, containing 2% salicylic acid to help decongest pores and whisk away dead skin cells. Daily Care Foaming Cleanser encourages cellular turnover for a clearer complexion and has a cooling menthol sensation that leaves skin feeling incredibly refreshed and clean.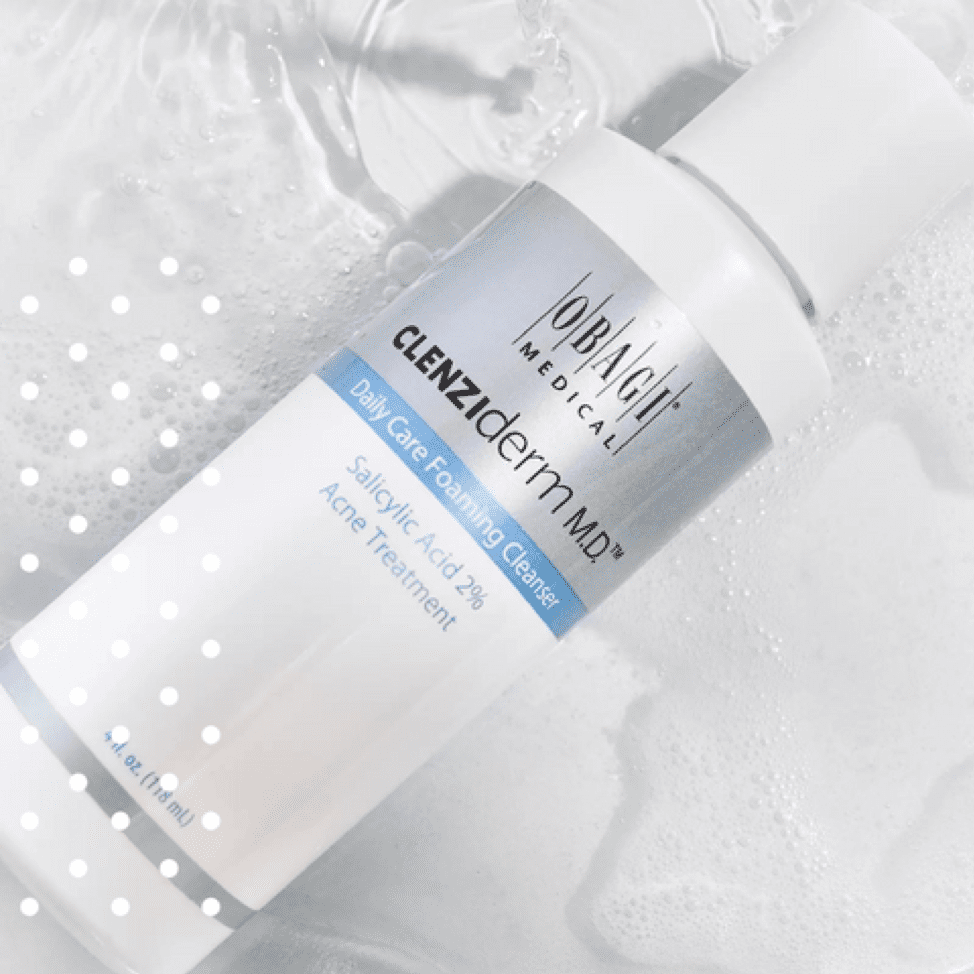 #2 – Obagi CLENZIderm MD® Pore Therapy
Pore Therapy is a high-powered, pore-refining toner that is also formulated with 2% salicylic acid. It is applied after Daily Foaming Cleanser with a cotton round. Because Pore Therapy remains on the skin, the high concentration of salicylic acid works deep within pores to eliminate excess oil, bacteria, and cellular build-up. The solution also contains chamomile to soothe irritated skin.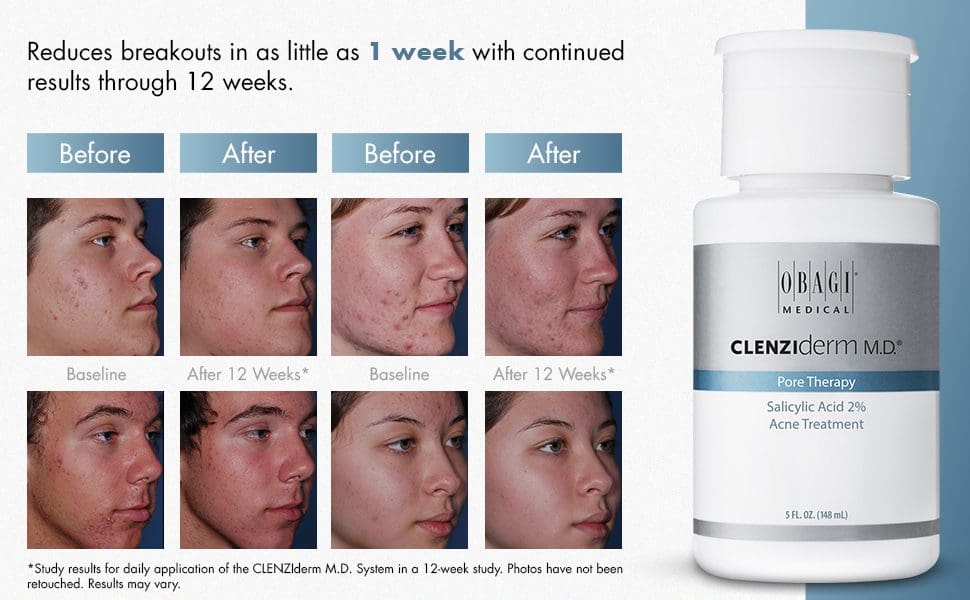 #3 – Obagi CLENZIderm MD® Therapeutic Lotion
Therapeutic Lotion is a lightweight, multi-tasking moisturizing lotion formulated with 5% benzoyl peroxide (BPO). BPO is highly effective at destroying surface bacteria and drying existing acne lesions. The lotion also contains skin-soothing squalene, a deeply nourishing, non-comedogenic hydrator that helps prevent skin from becoming too dry while on the system.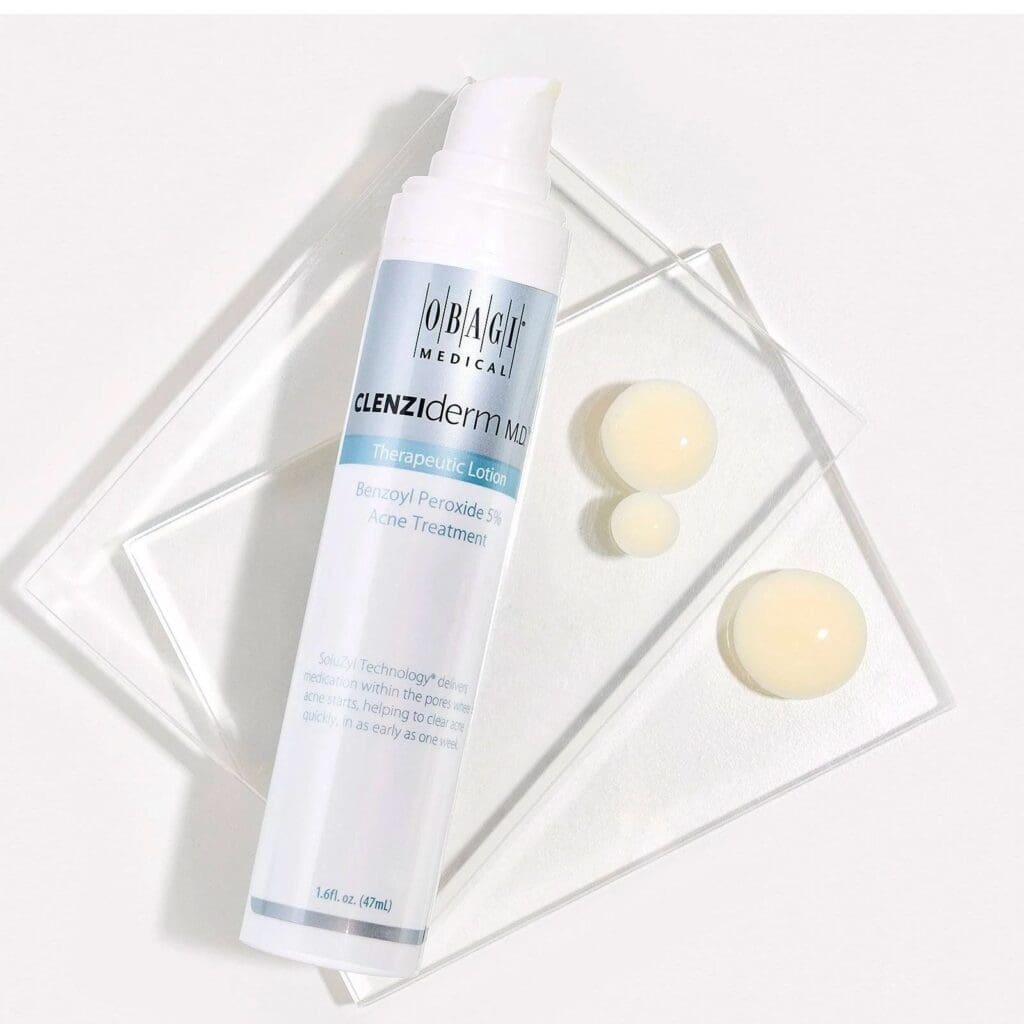 Do I Need to Use ALL 3 Products to Get Results with the Obagi CLENZIderm MD® System?
The products in the CLENZIderm MD® System can definitely be used alone with great benefits. Still, clients suffering from persistent acne are strongly encouraged to use the entire system until their skin stays consistently clear. Each product is formulated to penetrate deeply into pores, kill bacteria, and prevent future breakouts, but all three are designed to work synergistically to provide the fastest, most lasting results!
Do you have a teenager struggling with acne at home? Are you an adult who is still battling breakouts? Schedule a complimentary consultation with a Refinery Skin Clinic Advanced Practice Esthetician to discuss the CLENZIderm MD® System and other treatments to help clear your complexion and boost your confidence! Call (952) 479-0603 or text (952) 295-4681 to get started!