Restore your skin's snap by stimulating your body's natural collagen, elastin, and hyaluronic acid production.
Collagen, elastin, and hyaluronic acid are essential building blocks for healthy, youthful-looking skin. Together, they keep our skin plump, firm, elastic, and hydrated. Unfortunately, the production of ALL of these crucial components decreases with age. The result? Skin that begins to sag and wrinkle due to lost volume and structure. One treatment with Profound® RF Microneedling can restore your skin's snap by dramatically stimulating your body's natural collagen, elastin, and hyaluronic acid production. The best part? It is an entirely non-surgical approach with results that last up to five years!
What is Profound® Radiofrequency (RF) Microneedling?
Sometimes referred to as a non-surgical face-lift, Profound® is an innovative energy-based microneedling treatment. It's designed to encourage your skin to produce more elastin, collagen, and hyaluronic acid – the building blocks that keep it firm, smooth, and pliable.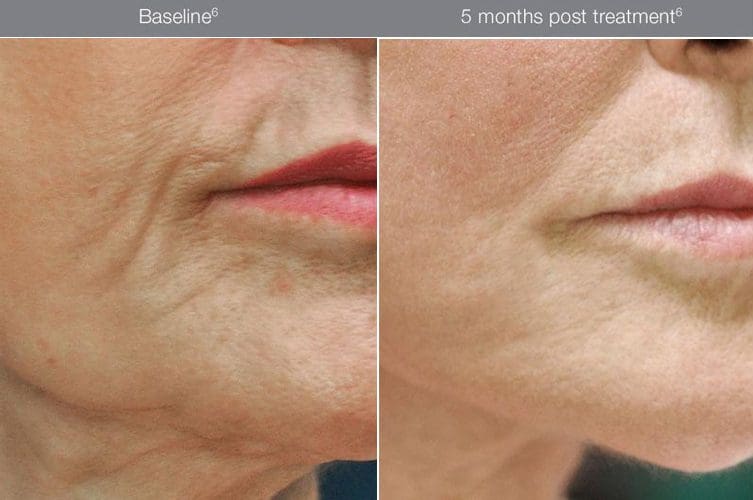 How does Profound® work?
Because our body usually doesn't produce elastin after puberty, it needs an outside influence to stimulate its production again, like our body's natural wound healing response. Profound® uniquely combines microneedling and radiofrequency technologies to penetrate the skin at a precise depth with tiny needles, before momentarily releasing a burst of radiofrequency energy (heat). This action stimulates your skin to begin healing and thus collagen, elastin, and hyaluronic acid production are also encouraged. As the weeks pass, your skin becomes tighter, smoother, more lifted as it heals. 
Who can have the Profound® treatment?
Profound® is suitable for healthy adults noticing significant signs of aging, such as sagging and drooping skin, jowls, and pronounced wrinkles. Before scheduling this treatment, a consultation is required to discuss certain topicals and prescriptions that may need to be modified before and after your treatment.
Does Profound® RF Microneedling hurt?
Before your treatment, your Registered Nurse provider will inject a local numbing agent into the treatment area before using the Profound® device. As a result, most clients only experience some mild discomfort during or immediately after the treatment.
Is there any downtime with Profound®?
You can expect about five to seven days of downtime as your skin undergoes the healing process. You will likely experience minor swelling and light bruising. This response is a good thing – as it means the thermal injury to the treated area has stimulated the wound healing response, and the dermal remodeling of new elastin, collagen, and hyaluronic acid has begun! To minimize bruising, you will ice immediately after treatment, and then every two hours for 15 minutes. Your provider will advise you to sleep with your head elevated and wash with a mild cleanser using tepid water. The bruises should subside within 3-10 days, depending on the treatment area. You will be able to apply makeup after two days. It would be a good idea to plan 3-7 days of downtime into your social calendar when planning a Profound® treatment.
What results can I expect with Profound® RF Microneedling?
Most patients report seeing improvement in 6-8 weeks. Because new elastin and collagen require time to develop fully, optimal results will not be observed for at least 3-6 months. Results typically last 3-5 years depending upon your age, health, and how you care for your skin after a treatment. Profound® is a wonderful treatment for clients wanting to see significant improvements in their skin's health and appearance without the need for surgery or cosmetic injectables.