Is your skin in a dull, sluggish, post quarantine slump? Does your complexion always act up when the seasons change, leaving you broken out, or dehydrated and ashy? Then, it's time for a fresh start with DiamondGlow™.
A simple 30 minute, 3-in-1 treatment not only gives your skin a deep clean and addresses skin concerns like acne, but it also imparts a gorgeous, dewy glow that reveals your skin's true radiance!
What is DiamondGlow™?
DiamondGlow™ is an innovative resurfacing treatment that includes exfoliation, extractions, and nourishing infusion with a customized SkinMedica® serum. The infusion process is so effective that it can plump your skin's surface volume by up to 70% with only one treatment. DiamondGlow™ is unique because it can be customized to suit any skin type, color, or condition. Whether your concern is acne, sun damage, or anti-aging – your skin will benefit from this treatment.
How does DiamondGlow™ work?
The DiamondGlow™ handpiece is gently moved across the skin to remove dead skin cell build. While the diamond tip lifts away surface debris, a closed-loop vacuum pressure system simultaneously carries it away. As it does this, it also infuses your skin's surface with a deep cleansing solution that banishes bad bacteria and softens blackheads so that they can easily extract and be removed as well. DiamondGlow™ is a whole new level of deep cleaning.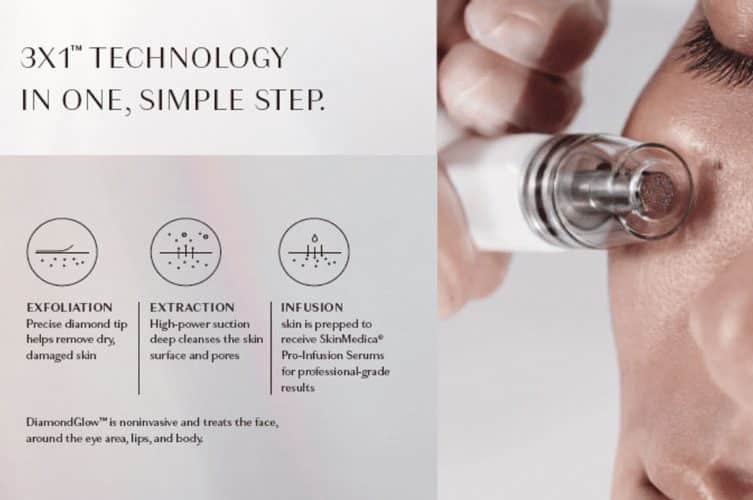 What skin conditions can DiamondGlow™ treat?
DiamondGlow™ can treat any skin condition. Your esthetician will customize your treatment with a special SkinMedica® serum that is designed to be infused deep into your skin. This means you get all of the radiance-boosting benefits of DiamondGlow™ and improvement to skin concerns.
What kind of results can I expect with DiamondGlow™?
Immediately after your treatment, your skin may be slightly flushed, dewy, and absolutely glowing! This glow is why many people decide to have a DiamondGlow™ treatment right before a special event. While results can be seen after only one treatment, a series of 3 to 6 treatments is recommended for visible improvements to conditions like acne, sun damage, and fine lines.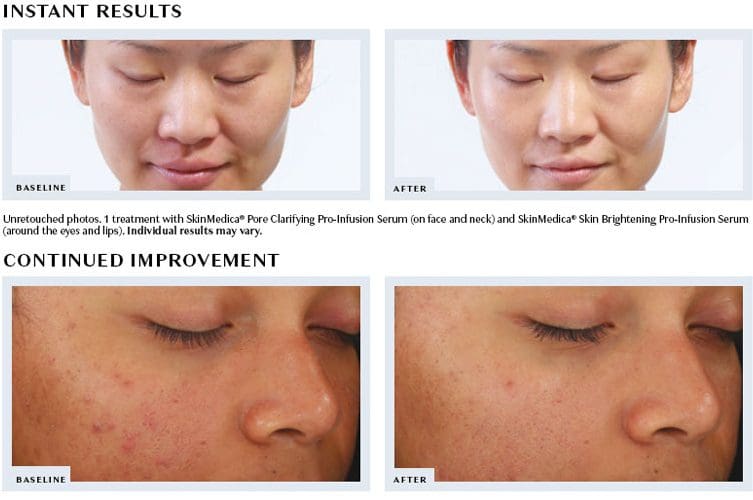 Is DiamondGlow™ part of the Brilliant Distinctions Rewards Program?
YES! Because DiamondGlow™ is owned by Allergan, the creator of Botox Cosmetic®, you earn points with each treatment you receive that can later be used towards your next Allergan purchase. (SkinMedica® skincare, Latisse®, Kybella™, Juvéderm, etc.)
Not a member of Brilliant Distinctions yet? JOIN HERE!
Ready to get your glow on? Schedule a DiamondGlow™ treatment with a Refinery Skin Clinic Advanced Practice Esthetician by calling (952) 479-0603 or book your appointment online now.