Are you ready to reveal your skin's most amazing glow?
The Ultimate Glow Getter treatment not only leaves your complexion with an off-the-charts luminosity and radiance, but it's also a highly effective treatment to improve common skin concerns like sun damage and acne! This 3-in-1 treatment combines the power of multiple resurfacing treatments to help you achieve your healthiest, most radiant skin ever.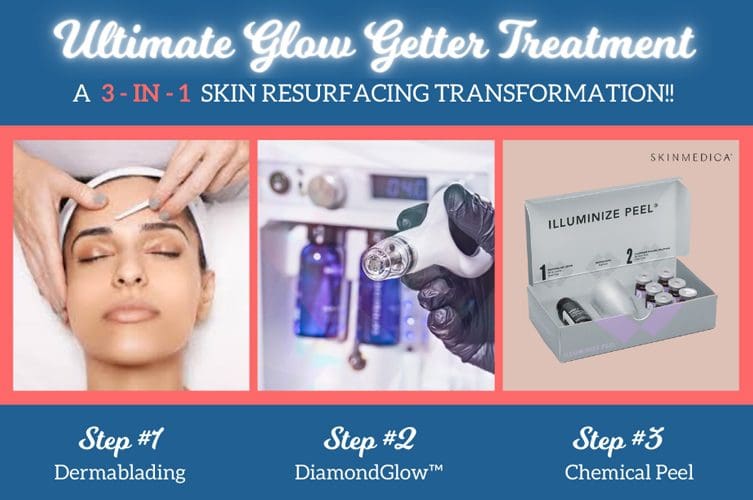 Step #1 – Dermablading
The first resurfacing step of the Ultimate Glow Getter is Dermablading. This mechanical form of exfoliation is incredibly popular because it removes soft facial hair ("peach fuzz") AND dead skin cell build-up to leave your skin unbelievably soft and smooth. Your Advanced Practice Esthetician will cleanse your skin and then use a rounded scalpel to safely and methodically swipe over your skin in short strokes. 
Dermablading is completely painless. It's a wonderful treatment on its own, especially if you need your makeup to set flawlessly for a special event, but your esthetician can also combine it with other services to enhance their effectiveness.
Step #2 – DiamondGlow™
After your esthetician has cleansed and dermabladed your entire face, she'll have a perfectly smooth canvas to proceed with a fully customized DiamondGlow™ treatment. This advanced resurfacing treatment from Allergan Aesthetics® exfoliates skin with a diamond-tipped wand, extracts blackheads and other impurities, and then infuses your skin with targeted SkinMedica® Pro-Infusion Serums. The dermablading you received prior to DiamondGlow™ will allow for easier extractions and heighten the absorption of your customized Pro-Infusion serum. Your skin will be left even softer and volumized by over 70% with intense hydration.
Step #3 – SkinMedica® Illuminize Peel®
Your Ultimate Glow Getter treatment closes with a light chemical by SkinMedica®, called the Illuminize Peel®. Because your skin has already experienced two other forms of exfoliation, the Illuminize Peel® will be able to penetrate the skin more uniformly and deeply and be more effective. Although gentle, this light chemical peel is a powerhouse for improving skin tone, suppressing breakouts, and imparting skin with a beautiful brightness and vibrancy!
How to Keep Your Glow Going!
After your Ultimate Glow Getter Treatment, your skin will be super smooth, clean, soft, plump, hydrated, and GLOWING! Clients don't just fall in love with the results of this treatment but also how their skin looks immediately afterward. Many decide to schedule the Glow Getter a few days before a special event, so their skin looks its best, but our estheticians recommend trying one treatment first to see how your skin responds. An SPF of 30 or higher is a must after the Ultimate Glow Getter to avoid photosensitivity from the multiple forms of resurfacing.
You can maintain your glow by using the four core SkinMedica® products at home after your Ultimate Glow Getter treatment. These include TNS® Advanced+ Serum, Lytera® 2.0, the LUMIVIVE® System, and HA5® Rejuvenating Hydrator. Book the Ultimate Glow Getter every six weeks to keep your skin absolutely radiant all year round!
Earn Allē Rewards points on the Ultimate Glow Getter and save on each treatment by joining the Refinery Skin Clinic's monthly membership!