Hot and trendy "it" ingredients get their 15 minutes of fame and fade away in the skincare world. But the pillars of the clinical skincare arena remain steadfast and solid because they are scientifically proven to work-growth factors fall into this elite group.
Regularly discussed but seldom understood, the benefits of growth factors (along with what a growth factor actually is) can elude many of us. It just so happens that The Refinery Skin Clinic offers the most powerful (and proven) growth factor product available in today's skincare market – TNS® Advanced+ Serum.
What are Growth Factors?
Growth factors are essentially any group of proteins that stimulate the growth of specific tissues. They act like little messengers in our skin, telling cells to divide and multiply, and they play a vital role in wound healing. These traits make them essential for maintaining healthy skin because they encourage the growth of other proteins like collagen and elastin, which keep our skin plump, elastic, firm, and youthful-looking. Unfortunately, as we age, the production of BOTH growth factors and collagen and elastin begin to decrease. Supplementing with a topical growth factor product backed by science can boost production again and make our skin behave and look younger over time!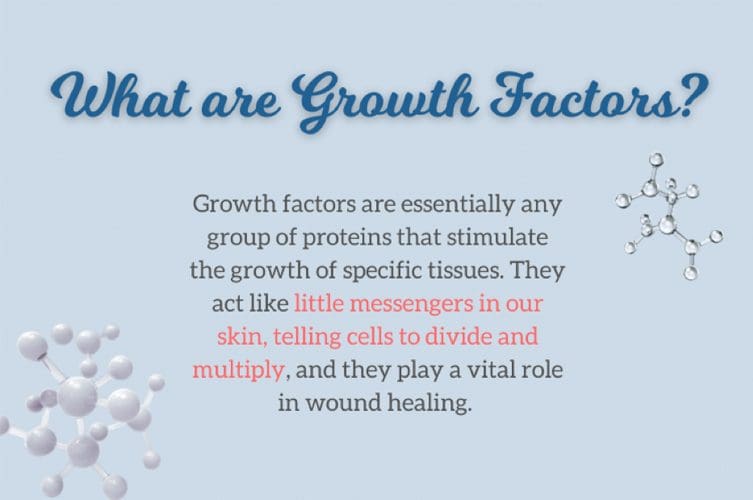 What is TNS®?
TNS® has long been the gold standard in the growth factor world for skincare products that deliver results. TNS® stands for Tissue Nutrient Solution. In SkinMedica® products, this solution is harvested from a Human Fibroblast Conditioned Media that is a combination of naturally secreted and stabilized growth factors and naturally occurring elements that help rejuvenate skin from the inside out. TNS® Advanced+ Serum has over 450 identified growth factors and cytokines – the highest concentration of any product available today.
Why is TNS® Advanced+ Serum so unique?
TNS® Advanced+ Serum is extraordinary because of its multi-layered benefits and the clinically proven results it delivers. Not only does it visibly improve the appearance of coarse wrinkles and fine lines, but it's also the first growth factor product proven to tighten sagging skin.
Most users see a visible difference in their skin's radiance and smoothness within two weeks, with continued improvements over 24 weeks of use.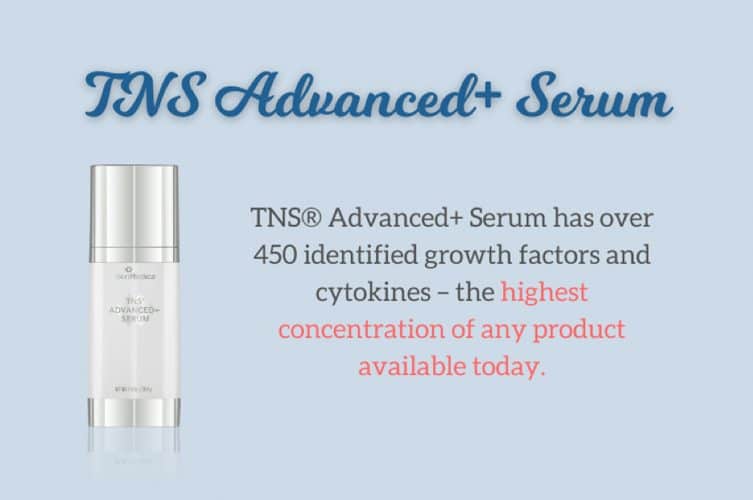 What are the benefits of TNS® Advanced+ Serum?
The powerful growth factors within TNS® Advanced+ Serum aren't the only ingredients that make it so age-defying. The serum is also chock-full of other rejuvenating ingredients that improve virtually every aspect of your skin's health and appearance.
Prejuvenation: supports, maintains, and preserves youthful, healthy growth factor levels before they decline
Rejuvenation: improves the appearance of accelerated signs of aging, including wrinkles, lines, coarse texture, and sagging
Dual Chambers:

Chamber 1: TNS®-MR contains a next-generation growth factor blend to support healthy skin function and an innovative peptide complex to nourish the skin.
Chamber 2: Renessence (RSC) Advanced contains a highly active blend of botanicals, marine extracts, and peptides, including French Flax Seed to repair, Spanish Marine Extract to renew, and Green Micro-algae to support collagen levels7.
If you are looking for one power product that delivers visible results, transforms the health and appearance of your skin, and is clinically proven to work – look no further than the most comprehensive growth factor product in the world, TNS® Advanced+ Serum!